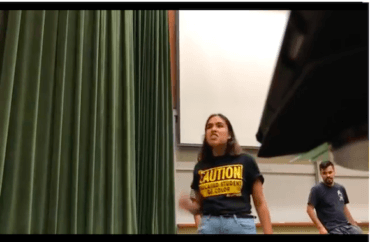 'You can take your [expletive] exam, but people are dying out there!'
A small battalion of student protesters disrupted a class at the University of California Berkeley recently, demanding that the professor change the midterm exam to a take-home test and give the students "significant time to prepare" for it.
The students commandeered the class of Berkeley professor Harley Shaiken, himself a professed liberal and an opponent of conservatives; the protesters demanded Shaiken change the format of the test due to the alleged stress they are under, writes George Washington University professor Jonthan Turley on his blog.
The disruption is documented in a YouTube video posted to Turley's blog. "Our well-beings [sic] are being put on the line because of our emotional, mental and physical stress," the protesters announce in what appears a prepared statement.
"Is this a filibuster?" a student calls out at one point, a remark which provoked general laughter and which visibly agitated the protesters.
"You fuckin take so much space!" one protester responds. Another derides the student as a "white boy with privilege."
After the students finish the statement, Shaiken attempts to respond by claiming: "First of all, I would say that I admire the fact that…" At this point a protester interrupts him: "No no no no. We don't want any admiring."
"I let you finish," Shaiken says, to which the protester responds: "We've let you finish since forever, since day one."
Shaiken attempts to list his progressive bona fides, mentioning the "demonstrations" in which he has taken part. He is rebuffed by the protesters, however.
"Rather than speak with Shaiken outside of class," Turley writes,
the protesters took their complaints to the Department of Ethnic Studies.  However, they remained long enough to denounce the students who waited to take their midterm exams as fostering white supremacy  . . . because they were at Berkeley for an education.  The student insisted "I don't know why you're still, like, sitting down, y'all. I don't understand. I really don't understand. Y'all can take your fucking test, but people are dying out there."  She added "you can take your f–king exam but people are dying out there."
See the video here:
MORE: 'Liberalism is white supremacy': Black Lives Matter protesters shut down ACLU free speech event
IMAGE: Youtube
Like The College Fix on Facebook / Follow us on Twitter