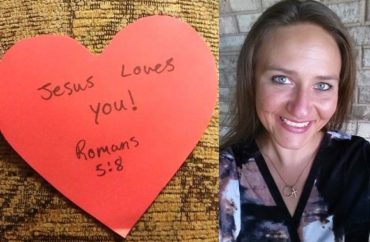 'I have spent 5 years now, trying to get this policy changed'
Polly Olsen's long-running tradition of handing out religious-themed Valentines on Valentine's Day came to an abrupt halt last year when school officials claimed she violated the school's speech code by handing out the cards in a non-speech zone.
Olsen filed a lawsuit against Northeast Wisconsin Technical College last September alleging a violation of her free speech rights and challenging the school's free speech policy as unconstitutional.
In November, the school defended itself by claiming Olsen's suit was brought in bad faith, suggesting her actions to distribute the cards was really an attempt to challenge the college over its perceived restrictive policies, and requested the judge dismiss the case with prejudice.
In an email to The College Fix this week, Olsen wrote that she wants the right to hand out her "Jesus Loves You" Valentines across campus.
"I have been trying since Feb. 14th 2014 to have this policy changed," she told The College Fix via email. "At that time, I was told by school officials that the policy would be changed and they would look into the staff being educated on students' constitutional rights. They agreed that I would be allowed to continue to hand out my valentines …  I have spent 5 years now, trying to get this policy changed."
Last week, the Wisconsin Institute for Law and Liberty filed a summary judgment brief asking a federal judge to find in Olsen's favor and declare the school's speech code unconstitutional.
"Now that NWTC has forced this freedom of speech issue into the court system, I not only want the policy to be changed, but I want a judgement by the court," Olsen told The Fix. "So that, this case can be used by others to help preserve the rights of freedom of speech and religion for all students and American people."
"Freedom of speech is at the core of American freedom and what this country was built on."
WILL also obtained a video of Olsen in 2018 distributing the Valentines in the office where she was stopped. In the video, Olsen appears to be handing valentines to two individuals sitting outside the office, then entering the office to distribute the valentines to a group of four people standing by a desk and talking. There does not appear to be any disruptive behavior in the roughly minute-long video.
WILL's brief argues "The areas of NWTC's campus where students walk from place to place, congregate for social activities, recreate and freely communicate with one another are all traditional public forums."
The brief continues that current school policies state "that the entire NWTC campus is a non-public forum except for the 480 square foot Public Assembly Area which NWTC says is a designated public forum. Thus, NWTC contends that it can regulate – and even forbid – speech on most of the campus."
The brief also claims that school officials restricted Olsen's freedom of expression due to the religious content of her Valentines.
It concludes by requesting the court "declare that NWTC deprived Ms. Olsen of her First Amendment right of freedom of speech and expression" and "declare that the NWTC Public Assembly Policy is unconstitutional on its face."
In a statement released last week, Northeast Wisconsin Technical College Vice President of Student Services Colleen Simpson said that Olsen was welcome to hand out the Valentines as long as she stayed out of certain areas:
Like any student, Polly is welcome and free to hand out material as long as she stays out of active classrooms and labs, and other areas where students are learning, and areas where confidential student or employee information is being handled or maintained – our only concerns with Polly's activities last year. It doesn't matter whether the material is Valentines or baseball cards.
However, according to the school's Public Assembly Policy, the distribution of literature is relegated to the Public Assembly Area, and is only allowed once permission has been obtained:
Picketing or displaying signs in an orderly manner or mass distribution of literature within the public assembly area is acceptable with the appropriate request to reserve … Literature, petitions, and requests for registrations may be distributed in the public assembly area only, except those with other campus designations initiated by College personnel and approved by president or his/her designee.
The policy also forbids the "displaying of signs or mass distribution of literature with offensive content or that is likely to or intended to cause a disruption"
The brief pointed out that the policy did not define "offensive content," "literature" or "disruptive," among other terms.
Northeast Wisconsin Technical College officials did not respond by publication time to requests from The College Fix for clarification about the policy.
Simpson's statement also claimed Olsen did not contact Simpson with questions about distributing the Valentines on campus, and that the school is in the process of updating its speech policy, a process Simpson said the school invited Olsen to, but that Olsen declined to participate in.
WILL responded to the college's statement by blasting the school's criticisms of Olsen's conduct.
"But Polly met with the NWTC Security team immediately after being ordered to stop handing out Valentines and got nowhere," the organization said in a press release. "She was told she could not do so because it was soliciting, disturbing the learning environment, the messages on her Valentines could be offensive and she violated the Public Assembly Policy."
Later the organization summed up its central issue with the school's defense:
NWTC's legal strategy in the lawsuit has been consistent with the statements made to Polly by its Security Department at the outset – NWTC's position is that its Public Assembly Policy is constitutional and that by handing out religiously themed Valentines on Valentine's Day, Polly was violating the Policy.
MORE: Student threatened confidentiality handing out Valentines, schools says
Like The College Fix on Facebook / Follow us on Twitter