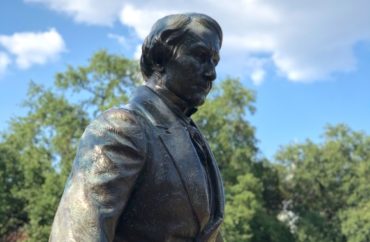 OPINION: The Christian campus in the heart of Texas has a very unique and special opportunity to tell both sides of its history
Baylor University's Board of Regents recently announced that it will establish an advisory committee to "review the historical context of the University and its connection with all statues, monuments, buildings, and other aspects of the campus in reference to their physical location, placement and naming, and provide observations for consideration by the Administration and Board of Regents."
When translated from political doublespeak, it means roughly this — Baylor University is considering removing the statue of Judge R.E.B. Baylor, the university's namesake who was a slave owner and an unapologetic supporter of the Confederacy.
Given the unrelenting wave of cancel culture sweeping our nation, this should hardly surprise anyone.
Despite the seeming inevitability of this, I would like to propose an alternative that Baylor would be wise to consider. A way for the university to move forward in a positive manner while still honoring and acknowledging its history, both good and bad.
I propose that the statues of both Judge Baylor and Rufus Burleson, Baylor's second president, be moved to a prominent and visible location on campus as representations of both sides of Baylor's history.
To put it mildly, Rufus Burleson was a remarkable man.
At the age of 27, he was appointed as the second president of the newly formed Baylor University. He improved the school and gained personal fame as the man who baptized the Father of Texas, Sam Houston.
At the outset of the Civil War, Burleson left Baylor to join the Confederate Army as a chaplain. He came to renounce the Confederate cause, though, and returned to Baylor, becoming an advocate for the civil rights of African Americans.
During Reconstruction, he traveled to every corner of Texas to speak in favor of the education of African Americans. He likewise helped raise money for the establishment of Bishop College, a black college which operated for over a century after Burleson helped to establish it. It is said that, when asked by white Texans why he favored rights for freed slaves, Burleson replied, "Heaven will [know] neither colored nor white as such."
Judge Robert Emmett Bledsoe "R.E.B." Baylor was a great, though undoubtedly flawed, man.
A member of the Supreme Court of the Republic of Texas, Baylor was a prominent Texan during his time. He successfully petitioned the Republic to charter a Baptist university, and the Congress not only obliged but ensured it would bear Judge Baylor's name.
Despite his many successes, the judge was not free of controversy. He was the leader of the Know Nothing Party, an anti-Catholic and xenophobic political party, in Texas. He was also a slave owner and a passionate supporter of the Confederacy, using Baylor's campus as a training ground for the Confederate Army.
Rather than acting recklessly and white-washing its history in an attempt to appease the mob, I believe that Baylor has an incredible opportunity to be what it purports to be — a shining light in higher education.
Instead of removing Judge Baylor's statue, it should be moved to a prominent location on campus along with Rufus Burleson's statue. Accompanying them should be a plaque detailing the lives of both men and the remarkable history of Baylor University, a school which was founded by a slave owner and whose greatest leader of its founding era was a passionate advocate for the civil rights of African Americans.
After moving the statues, Baylor should host a series of lectures about the lives of both men and the university they created led by a diverse selection of faculty from the Department of History.
I'm confident that this would have widespread support on campus. The idea was born of a conversation I had recently with one of Baylor's most liberal professors, and I personally know of a handful of conservative professors who believe it to be a good idea as well.
If Baylor takes this opportunity to lead rather than follow the countless institutions submitting to the spirit of the times, it would serve as a positive example not only to other institutions of higher education, but to the world.
It would show that history need not be erased, but rather acknowledged, honored, and learned from.
MORE: Boston University may retire mascot name 'Rhett' due to 'Gone with the Wind'
IMAGE: TallMaple / Shutterstock
Like The College Fix on Facebook / Follow us on Twitter