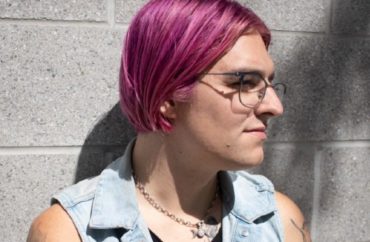 Activist behind program wrote master's thesis on 'dominant/submissive' relationships
A new program at the University of Regina aims to ensure that teens and young adults struggling with gender dysphoria have an older, transgender mentor to assist them in exploring their sexuality.
The program at the public university is being run by a male named Cat Haines who presents himself as a woman. Haines graduated from the university.
Given that this is a mentorship program, potential applicants may want to know about Haines' (pictured) views on relationships.
"Throughout [one chapter of Haines' thesis], he proposes a framework of 'BDSM and [willful] submission' to 'help us understand the process of material re-embodiment," Reduxx reported. Haines also "expresses his own personal belief that there is 'tremendous power in exploring and enacting Dominant/submissive style relationships.'" This piece of academic work is based on Haines' review of a pornographic film.
"Haines describes himself as both an academic and an artist with a focus on the intersection of his identities as a 'dyke and a trans woman,'" Reduxx reported.
Now Haines can bring his views on domination and submission to minors and young adults who are struggling with gender dysphoria.
"Cat Haines says she did not see many trans people when she was growing up in Regina," CBC reported. "Now she is starting Into the Streets, a mentorship program for trans feminine youth, to help the next generation."
"Local activists are facilitating this peer mentorship program with administrative and fiscal support from Ivy+ Dean Consulting and UR Pride Centre for Sexuality and Gender Diversity," the publication reported. "It will pair up to five youth aged 15 to 25 with experienced mentors."
"The anchor peer mentor will be a trans feminine person in the city who is an experienced community advocate or organizer or leader," Haines told the publication.
"I am a genderqueer trans girl, dyke, and academic/artist weirdo," Haines explains on his website. "My academic research focuses on transmisogyny, and my Master's thesis Transmisogyny and the Abjection of Girlcock looks at how trans women are cast as dangerous and disgusting intruders in (cissexist) feminist and lesbian spaces, theory, and media."
Haines is "particularly interested in how my body is read and consumed as a trans woman who has undergone bottom surgery, and how I can use my body to subvert classic cissexist feminist theory, or engage in the creation of new theory through my artistic and academic practices."
"My artistic practice centers an autotheoretical investigation into my body and experiences as a post-surgically transitioned femme, and interogates concepts such as the trans body, sexual and gendered difference, and the intersection of my identities as a dyke and a trans woman," his website explains further.
MORE: DePaul 'Queer Peer' program matches gay students for mentorship
IMAGE: Cat Haines/Linkedin
Like The College Fix on Facebook / Follow us on Twitter