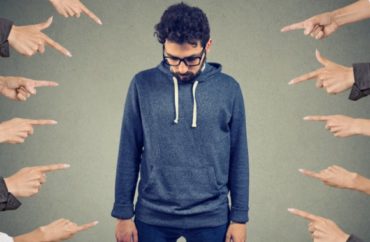 George Washington University's The Hatchet ran a piece late last week about how to be a "better ally" to Black Lives Matter (and black people in general).
To no one's surprise, the list offered by Rhyma Asim, Sidney Lee, and Zeina Mohammed is a critical/gender/women's/whiteness studies major's wet dream come true. Anyone who follows their advice may become an "ally" to BLM …
… but in reality you'll become an even bigger sucker.
For instance, "White Fragility" by Robin DiAngelo is recommended reading. This huckster's specialty is making white people feel culpable for whatever grievance du jour. Her circular "logic" and one-size-fits-all premise is perfectly designed for the aims of BLM; that is, it's meant to turn you into an unquestioning, boot-licking automaton. You may as well consult your horoscope for all the academic rigor the book possesses.
Next, the Hatchet authors recommend immersing one's self into the New York Times' 1619 Project. This effort, which seeks to "reframe the country's history [by marking] 1619 as our true founding" (because that's when African slaves first arrived in the now-US), is rather historically dubious. Historian Gordon Wood called the project "so wrong in so many ways," while James McPherson said it "[leaves] most of the history out." But they're white, so who cares what they think. Just tell these two products of privilege "your mom" like this professor did in response to a 1619 critic.
A good ally also can "amplify" black voices on social media, the authors continue. But you have to follow certain guidelines, of course: As a white person, you must "bear in mind that your voice may not be the most important one in conversations about race." You also have to do more than just post trendy hashtags; be sure to follow prominent black activists and "center your digital advocacy on black experiences."
MORE: Faculty book club encourages 'allyship' with people of color
Lastly, Asim et. al. implore whites to "have the hard conversations." They want you to play activist to your family and friends — like questioning them on things like
How do you behave when you are confronted by racist behavior? In what ways have you ignored this behavior in the past? Who taught you about race and culture, and how could that have an effect on how you think now? When you post on social media, are your intentions in the right place or are you posting for personal or external gratification?
They also recommend you ask your black friends how they're doing, and about current events. But BEWARE: This may add to the black friends' trauma, so maybe you should reconsider. Especially since you might get "canceled."
The reason all this insanity has grown as it has is because is hardly anyone has stood up to it. It is, after all, perfectly reasonable to believe in Martin Luther King Jr.'s dream of not being judged by the color of one's skin. It is perfectly reasonable to believe that not all cops are bad (and, in fact, the vast majority are good). It is perfectly reasonable to believe that George Floyd's killing was a crime, but that reforms should be implemented without dismantling entire police forces.
And, it is perfectly reasonable to believe that some nefarious, all-encompassing "white supremacy" isn't really a thing, and certainly not the biggest problem the black community faces today.
The reality is the views of BLM radicals and others in no way represent the majority. They're just louder and have the modern Scarlet Letter (in this case, "R") in their arsenal.
So don't buckle. Stay true to your convictions. Keep your sanity.
MORE: Prof: Teachers must 'root out' anti-black racism in their schools
IMAGE: pathdoc / Shutterstock.com
Like The College Fix on Facebook / Follow us on Twitter