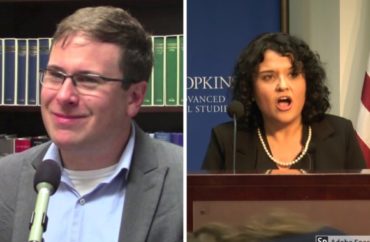 Who's responsible when academics start acting like trolls?
As political polarization continues to worm its way into every facet of daily life, some academics have shown themselves unable to maintain decorum – or even argue factually – as they engage online.
When their ideology or scholarship is contested on Twitter, they are prone to sling personal attacks rather than meaningfully rebut the challenges. The result is a meager dose of quality academic content for other social media users, who learn that scholars are unwilling to defend their work.
That raises a question of professional ethics: Should bad behavior by academics be sanctioned or otherwise censured by academic groups?
Phillip Magness, an economic researcher and former history professor, alluded to this question when he reflected on Twitter exchanges with other academics following his criticism of the "1619 Project" by The New York Times.
Interested in the sources that shaped the series of essays on the 400th anniversary of slaves arriving in America, Magness posed several questions on Twitter about the scholarship of one of the contributors, Cornell University historian Edward Baptist.
Did "enthusiasts" of Baptist's book on "Slavery and the Making of American Capitalism," Magness asked, know that Baptist's statistics "arose from a documented mathematical error" and that "leading economic historians" found he had "misrepresented evidence and citations"?
Had Baptist himself "made any effort to respond" to critics or correct his factual errors, "which continue to be cited in the press, in academic works, and even in congressional hearings"? (Magness is critical of Baptist's "rehabilitation" of the "King Cotton" thesis, which holds that "slave produced cotton commanded a controlling position over the American economy and indeed the world's commercial engines.")
What Magness received on Twitter: a "your mom" joke from a Howard University historian. "A tweet citing the work of Ed Baptist is alarming for whom troll?" wrote Ana Lucia Araujo.
Araujo's subsequent tweets got more juvenile from there, as Magness documented in an essay last month for the American Institute for Economic Research, where he's a senior research fellow.
MORE: '1619' scholar charged with fabricating quotes, evidence
A tweet citing the work of Ed Baptist is alarming for whom troll? For you and your mom perhaps? Give me a break, please. https://t.co/CiVjeZMuTM

— Dr. Ana Lucia Araujo (@analuciaraujo_) August 18, 2019
'It becomes an ad hominem-driven race to the bottom'
There "seems to be something about Twitter that brings out the very worst in academics," and it is not just Araujo, Magness wrote in a reflection on the exchange and the broader problem of Twitter "corrupting" the history profession.
"Abrasive remarks of this type, and worse, are an all-too-familiar norm in the sewers of social media," he wrote. Yet Araujo is "not some random internet troll": The Brazilian-born scholar is the director of graduate studies for her department and author or editor of 11 books including "Reparations for Slavery."
"Instead of challenging and scrutinizing each other's work, it becomes an ad hominem-driven race to the bottom," Magness told The College Fix in an email on the phenomenon. This amounts to "anti-intellectualism." Araujo (below) did not respond to phone and email queries from The Fix.
A scholar who praised Magness's essay, Adam Kissel, said it raised the issue of what role American Association of University Professors policy should play in policing academic conduct online.
When scholarly expression "violates AAUP academic norms it could legitimately be subject to academic sanction," the former American University visiting scholar told The Fix in an email.
MORE: Anti-Semitic tweeting professor gets massive settlement from U. Illinois
While Kissel acknowledged that "tone policing is a fraught principle that can easily be abused," he said speech that "might violate academic norms should be submitted to the appropriate academic authorities for review, submitted ideally by other academics rather than outsiders." He previously worked for the Foundation for Individual Rights in Education, a group that broadly defends academic freedom.
Yet even as Magness publicly compared academic behavior on Twitter to "an anonymous troll hiding behind a cartoon avatar," he told The Fix he was not calling for AAUP or any academic organization to hold academics accountable in some way.
"I strongly oppose sanctioning academics for their bad behavior online," Magness wrote: "Quite the opposite – our broader commitment to free and open exchange also means that we must tolerate bad behavior when it happens, including from sources who respond to scholarly criticism in unscholarly ways."
The better response is for academics to "vigorously criticize the unprofessionalism of academics who eschew substantive disagreement and questioning of their research," he said.
Let a faculty committee deal with trolls
The AAUP itself is not eager to police the divisive behavior and demeaning language used by its members on social media, even though the organization addresses these subjects in its 1940 Statement of Principles.
Academic freedom policies across higher education are largely based on this statement, which asserts that academics "should remember that the public may judge their profession and their institution by their utterances."
This is why they should not only strive for accuracy "at all times" but also "exercise appropriate restraint" and "show respect for the opinions of others."
AAUP told The Fix that it "does not referee disputes" about the crude, juvenile online behavior of academics. It prefers local control, a spokesperson said:
The AAUP's position is that extramural utterances of faculty members can be sanctioned if they demonstrate the professional unfitness of the faculty member. In that case, the question whether sanctions are appropriate should be determined by an elected faculty committee …

The AAUP advocates procedural standards of academic due process that should be employed when the extramural speech of a faculty member calls their professional fitness into question. The end that we wish to achieve is the protection of academic freedom.
Twitter simply magnifies the worst elements of academia, "exhibiting clear symptoms of the hyper-politicization of everything," Magness told The Fix.
It's not just that academics are responding to the divisiveness of President Trump, he continued, pinpointing the "sharp leftward shift of the professoriate" as 20 years in the making.
These "ostensibly distinguished professors at top universities now regularly descend to Trump's own notorious level of twitter discourse," Magness said, "and even valorize each other for the amount of political vitriol that they can fling through tweeting and piling on disliked opinions."
MORE: Magness book says higher ed rewards professors who don't teach
As opposed to a scholarly exchange between two decorated academics, the conversation between Magness and Araujo was sour from the start due to Araujo's initial condescending tonality and remarks.
The Howard University historian upped the juvenile rhetoric as other academics added their two cents to Magness's prompt about Baptist's scholarship.
When political scientist Derek Bonnet of George Washington University, a former scholar at the libertarian Cato Institute, called Araujo's "your mom" response "painfully embarrassing," she responded: "CATO Institute boy, I called his mom, not his puppy." She called Bonnet "baby" and complimented his T-shirt.
In his essay, Magness noted that Araujo dished out gender-based insults to adult men who challenged her, referring to them as "boy" and "young man." Addressing a grown man as "boy" was a feature of the Jim Crow South.
Such polarizing behavior would not be appropriate in the classroom, nor in any kind of external scholarly environment, he wrote.
Imagine if a presenter at the American Historical Association conference – full of fellow doctorate-holders – responded to an audience question about a source in the presentation with Araujo's "your mom" and "boy" insults, Magness said.
MORE: Professor who tweeted in favor of 'white genocide' resigns
— Corey A. DeAngelis (@DeAngelisCorey) August 18, 2019
'Basically a non-stop stream of insult-laden pedantry'
Magness's essay also cited another "1619 Project" contributor who prefers insults to reasoned discussion on Twitter: Princeton University historian Kevin Kruse, whose New York Times essay blamed segregation for "Your Traffic Jam."
Kruse's initial target was conservative provocateur Dinesh D'Souza, and they bickered back and forth about American history and racial issues in America.
But the Ivy League historian now spends "abnormally large portions of his day picking Twitter fights with random insurance agents, auto mechanics, soccer moms, or anyone else" who shares talking points from conservative talk radio, Magness wrote, calling him an "internet meme warrior."
Kruse's Twitter feed is "basically a non-stop stream of insult-laden pedantry, cheered on by other academics that are exuberant he 'dunked' on some random blue-collar conservative twitter account with 50 followers," Magness told The Fix.
Another academic-turned-meme warrior, in Magness's estimation, is economist Marshall Steinbaum of the University of Utah.
Steinbaum is known for dishing out distasteful comments toward conservatives on Twitter via hyperbolic umbrella statements, or just sharing others' comments. Recently he praised a progressive writer for asking how "American conservatism can change to being anti-racist without ceasing to be American conservatism."
Like The College Fix on Facebook / Follow us on Twitter