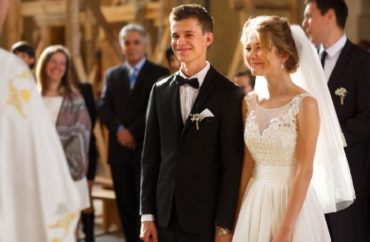 'Why delay all the most exciting things in life?'
College students should pursue not only a degree, but marriage while going to school, according to one Catholic wife, mom and commentator.
Anna Reynolds, who writes about virtue and family life, recently explained to The College Fix why she believes students need to be more open to marriage and her advice for how to find a spouse in college.
"The benefit is putting first what you will value in the grand scheme of life: a loving and committed spouse and children to share that life with," Reynolds told The Fix.
Reynolds told The Fix that women are told to think about their careers and professional life "without any consideration to the strong possibility of marriage and motherhood, demanding roles that are worthy of being a priority."
She added that "[g]etting married 'young' does not exclude the possibility of a career, and late-in-life career change seem to be becoming more common."
The Catholic writer said that one challenge of getting married young might be immaturity, but "plenty of 30-somethings remain childish so you won't necessarily avoid it."
"Many women go to college opposed to the cliche of meeting a spouse while in school," she wrote. "Those convinced by good and persuasive men to dismiss these foolish misgivings and marry shortly after college will tell you it's an invitation to an adventure. Why delay all the most exciting things in life?"
Reynolds provided further advice in her comments to The College Fix on where to meet that lifetime partner.
MORE: College won't bring happiness but marriage will, Catholic authors say
"Do interesting activities," Reynolds wrote to The Fix. "College campuses have interesting clubs and events that are hard to find or make time for later in life."
She suggested activities such as "ballroom dancing classes, attend[ing] student debates [or] enter[ing] the trivia competition with a team."
Reynolds told The Fix that whether you meet your spouse or not in those scenarios, "you will undoubtedly make interesting friends." And she said those relationships may later on in life be an avenue for meeting a spouse.
The current debate over student loans is also part of the equation, Reynolds told The Fix.
She believes that partially the student loan crisis has been made worse by "the notion that you'll have a decade in your career before settling down and welcoming children."
Reynolds wants couples to think honestly about the decisions they are making in regards to taking on student loans.
She still encourages people to encourage getting married and having families, even if they have debt.
"If you've already taken on loads of debt, there is hope. [Christian personal finance expert] Dave Ramsey wouldn't be so popular if his methods did not work," she said.
"The bills associated with starting a family can feel crushing, but the challenge is a worthy one," she told The College Fix. "Having children to provide for can spur fathers to accelerate their careers."
"It is difficult, but most worthy endeavors are," she said about the challenges of being a young family. "Finding other young families can be key to discovering ways to thrive."
Reynolds asserted that a different approach needs to be taken if one is serious about finding a spouse in college. "Pragmatism is lacking in many Catholic single people looking for a spouse," Reynolds wrote in Crisis, a Catholic magazine.
And in regards to self improvement, Reynolds wrote that confronting hard situations helps us to grow, which includes navigating intimate relationships.
While she wrote that God's timing is His alone, she argued that some young women might be hindering the work of the Holy Spirit in their lives. "Vocations are a gift from God and cannot be demanded. But we can put ourselves in a position to receive God's call by dating with purpose in young adulthood and being open and prepared to enter a religious order or matrimony while the getting is still good."
MORE: Ben Shapiro offers students advice on finding a spouse
IMAGE: IVASH Studio/Shutterstock.com
Like The College Fix on Facebook / Follow us on Twitter