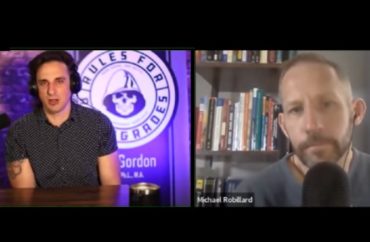 'Literally almost anything an 18-year old chooses to do with his life is more worthwhile than going to college'
Two Catholic commentators with six advanced degrees between them have a message for young adults: Don't go to college.
Michael Robillard and Timothy Gordon (pictured) have a forthcoming book called "Don't Go to College: A Case for Revolution" that explains why students should not attend "an expensive, mind-numbing, morally lethal narcotic" institution. Robillard has been a research fellow at several universities and Gordon also taught at the college level and at a Catholic high school.
"Literally almost anything an 18-year old chooses to do with his life is more worthwhile than going to college," Gordon told The College Fix via email.
Gordon, a father of seven, said that the secret to a happy life is not attending college, but getting married, working hard and having babies.
He told The Fix that parents should encourage "the things that 18- or 19-year old human beings have done and were created by God to do since the beginning of our race."
These are "completing, upon graduating high school, their youthful formation in the Faith; falling in love and entering into lifelong Holy Matrimony with one other; and for the men, taking up some daily labor to win bread for their growing families."
Gordon said for women "this entails having babies plentifully and making beautiful, comforting homes."
"It's not complicated. And if done properly, it leads to true happiness in this life and in the next," Gordon told The Fix.
His message to parents is that "every corpuscle of [higher education] (even in the most conservative states) operates tirelessly such as to subvert or circumvent each matriculant's faith, marital vocation, and moral happiness."
"It's what the Enemy wants: all the men in society sexually corrupted, sterilized, narcotized, and pacified by their re-education programme known as university," Gordon told The Fix.
Young adults don't need college anymore, thanks to the Internet and numerous resources.
Gordon recommended Youtube, Skype, and Zoom as medium through which people can learn since colleges "no longer…supply this education."
"[I]t is simply wrong to aver that without going to college, a person cannot learn grammar, mathematics, logic, theology, philosophy, Latin, Greek, Hebrew, history, anthropology, ethics, ecclesiology, biology, physics," Gordon told The College Fix. "They can work at a job by day and, without a whit of propaganda, learn all of these things online from trusted influencers."
The co-authors laid out their views further in an op-ed at Fox News.
The pair wrote that universities no longer educate but have become overrun "by the hegemonic ideology of intersectionality."
Gordon and Robillard identified CRT, LGBTQ issues and "diversity, equity, and inclusion" as "expressions of this pernicious ideology of weaponized grievance now endemic to most college campuses."
"This is why we need a counterrevolution in higher education," the two wrote in their op-ed.
"We strongly encourage Zoomers to avoid the college-industrial complex altogether: instead, stay local, focus on building the cardinal virtues, learn a trade, and marry young," the pair wrote. "In short, after high school, young folks must get on with the business of living their best lives, free of costly woke indoctrination."
MORE: Female college grads want to have kids, Jordan Peterson says
Editor's note: Associate Editor Matt Lamb's wife has designed websites for Robillard and Gordon.
IMAGE: Tim Gordon/YouTube
Like The College Fix on Facebook / Follow us on Twitter