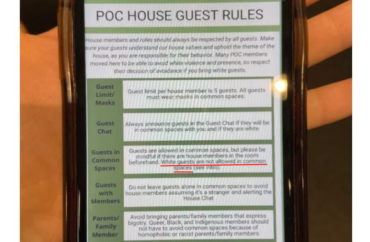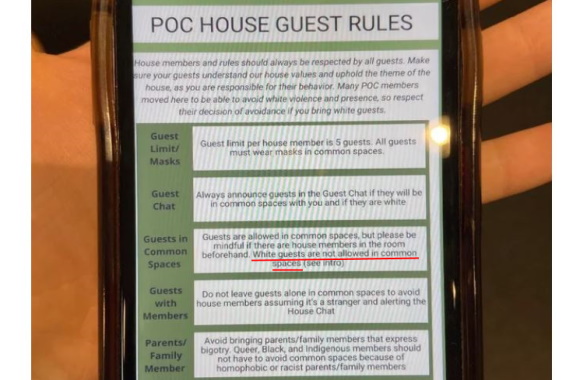 Students move into the POC house 'to be able to avoid white violence and presence,' rules state
White guests are banned from the common spaces at the Person of Color House, an off-campus housing option for Berkeley students, according to a photo of the guest rules recently posted on Reddit.
Under a section labeled "Guests in Common Spaces," it states: "Guests are allowed in common spaces but please be mindful if there are house members in the room beforehand. White guests are not allowed in common spaces (see intro)."
The POC House intro states in part that many members moved in "to be able to avoid white violence and presence." When students do bring a guest, the rules direct them to announce it in the house guest chat and note "if they are white."
But it's not just white guests who are unwelcome.
"Avoid bringing parents/family members that express bigotry," the rules continue. "Queer, Black, and Indigenous members should not have to avoid common spaces because of homophobic or racist parents/family members."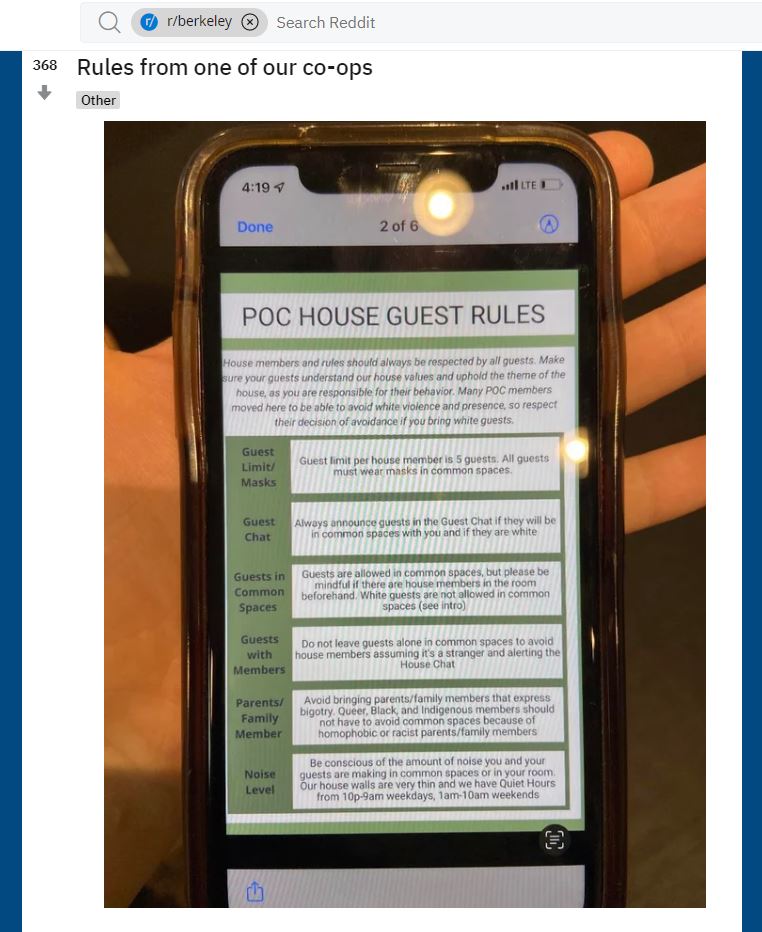 The Person of Color Theme House, a five-story, 30-room home that can accommodate up to 56 students, exists to serve "low-income, first generation, immigrant and marginalized students of color."
It's part of the Berkeley Student Cooperative, a nonprofit housing cooperative established to provide affordable housing to Bay-area college students.
Since it was established in 2016, the POC house has faced its share of internal problems.
One former member wrote in a Medium article that the house has become known for its "call-out culture" perpetuated by "the lack of intersectionality."
"Several members have been criticized for being white/white passing, aligning themselves with whiteness, or allowing white violence in the house," she wrote.
Stephen Ross, cooperative experience manager for the Berkeley Student Cooperative, told The College Fix that "neither the BSC nor the POC house has an official policy" excluding white guests from common spaces.
"White people can and do live in POC house, but the focus for POC house is providing a safe and supportive living environment for people of color," he said.
However, Ross also noted that each of the 20 BSC houses "have their own culture and practices" that develop over time. At the POC house, members actively work toward "not making Whiteness central to the experience for members living in the house."
Ross explained that people of color have been negatively impacted by past events like "racist and discriminatory remarks made by former President Trump" and police killings, in addition to facing "daily experiences of covert and overt racism."
"While the members who choose to live in POC house cannot avoid every racist experience, living in POC house gives the members who live there a safe space to process their experiences and feel supported in their living environment," he said via email to The Fix.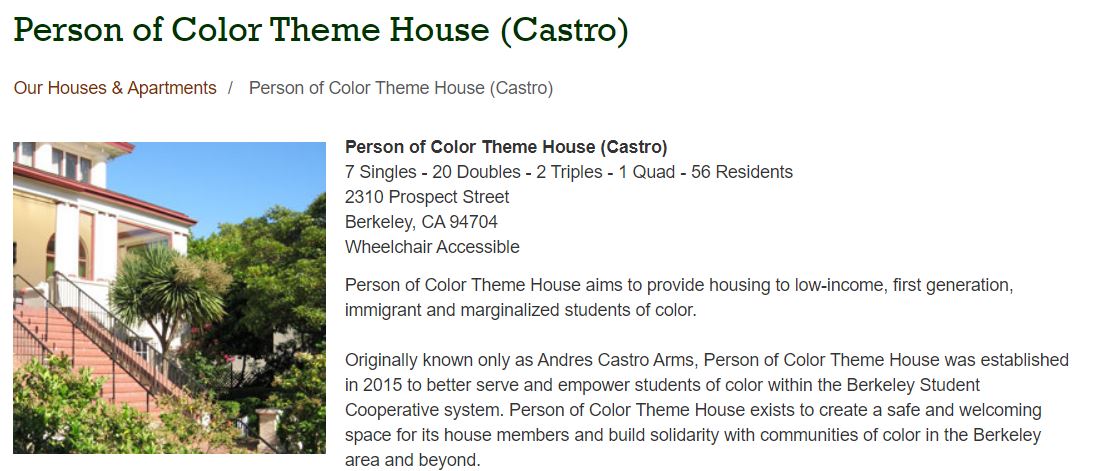 Co-ops in the BSC are run by private landlords, not the university, Assistant Director of Media Relations for Berkeley Adam Ratliff told The College Fix. Therefore, he said, it is "not the role of the campus" to comment on what they do.
"As this involves an off-campus non-affiliated landlord, the campus has no ability under the Code of Student Conduct to discipline the landlord," Ratliff said.
Other theme houses offered by the BSC include the LGBTQIA & Queer Theme House and the African American Theme House.
The official BSC anti-discrimination policy states that access to residential facilities may not be restricted on the basis of "age, color, disability, gender, height, marital status, national origin, political persuasion, race, religion, sexual orientation, veteran status or weight."
MORE: Professor blocked for tweeting 'all men are created equal' files First Amendment lawsuit
IMAGE: Reddit screenshot
Like The College Fix on Facebook / Follow us on Twitter