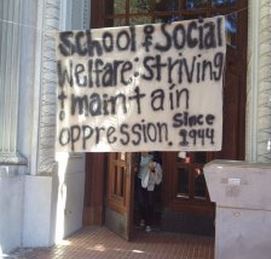 Students at UC Berkeley this week held a protest against a professor who recently told his class the Black Lives Matter movement "needed to stop scapegoating the cops" and shared statistics to argue black-on-black crime is the real harm facing the black community.
Saying he was inspired by the campus Black Lives Matter conversation, Professor Steven Segal, who is white, made his argument not only as part of a lecture to his social work class, but also delivered some of his comments via a rap he wrote.
The professor at UC Berkeley – the birthplace of the free speech movement – has since been accused of racism and of creating a "toxic climate for people of color in the classroom," and a #BlackLivesMatter sit-in demonstration against the longtime scholar was held Tuesday.
"We just hosted a teach in and sit in [over] a mandatory policy class in which there was an instance of racism enacted by the professor," said UC Berkeley student Ariana Allensworth, a campus Black Lives Matter organizer, regarding the Feb. 10 incident in the graduate-level course. "We hosted a mediation and dialogue to remedy the harm done in the class and [to discuss] how our school can end institutionalized racism."
Allensworth's comments were given on a short video posted on YouTube that chronicled part of the Tuesday sit-in, attended by roughly 60 grad students.
The video shows them hoist a sign on Haviland Hall, where Segal teaches, accusing the school of oppression while singing the so-called Michael Brown anthem "which side are you on friend, which side are you on? … We will fight for freedom, till justice is won."
Segal had allegedly "silenced students who questioned and pushed back on his reasoning," some students claimed in a write-up of the classroom incident on Social Work Helper. According to the narration in the video, "many left the class crying."
Some students have accused the professor of making the classroom environment feel "unsafe." Students too traumatized to return to Segal's classroom have been allowed to transfer to a different class.
"A white tenured male professor had spent his class period rapping about 'black on black crime' a day after a school-wide discussion on black lives matter," the video's captioning states. "The professor had a captive audience because all first-year community mental health students were required to take his course."
Segal has since apologized to his class, The Daily Californian student newspaper reports.
"Working with the students was very productive and I apologize for any misunderstanding," Segal also said in an email to The Cal. "I completely respect the students and want to continue to be in dialogue with them. I know by working together we can strengthen our commitment to building the best School of Social Welfare we can."
In a campuswide email sent the day of the incident, Jeffrey Edleson, dean of the School of Social Welfare, stated: "We understand that a faculty-student exchange in one of our classrooms today caused offense and great distress to some of our students and made the classroom environment feel unsafe. We deeply regret the reported incident."
According to the YouTube video description, the student protestors have demanded "a strategic plan that addresses faculty incompetence in facilitating discussions about power, privilege and oppression in their classrooms … " and that Edleson "agreed to co-develop the strategy with student organizers."
But comments about the incident on The Daily Californian website indicate many among the campus community do not have sympathy with the protestors.
"Uh, no, guys. If Segal were attempting to silence you because he didn't agree with what you said, that would be oppression. It seems to me he was expressing an opinion. Attacking him instead of addressing how his opinion is wrong is a classically weak argument," stated one.
Said another: "Does anyone else miss the old days when Berkeley and its students stood FOR free speech?"
Jennifer Kabbany is editor of The College Fix. (@JenniferKabbany)
Like The College Fix on Facebook / Follow us on Twitter
IMAGES: social media screenshots