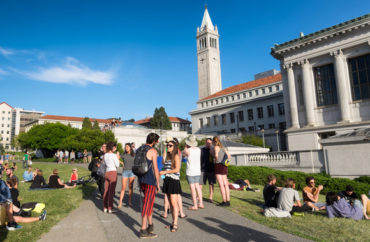 One new faculty member calls herself a 'Social Justice Engineer'
UC Berkeley announced a "Climate Equity and Environmental Justice" cluster hire in early September, featuring five new faculty members the university hopes will bring greater diversity and work together to address threats to "vulnerable and marginalized groups and/or to the natural world."
"We want the cluster to be able to work together intellectually on some of the most entrenched problems the country and world are facing, to be greater than the sum of the parts, to attract graduate students and to be a social support for each other," Raka Ray, dean of Berkeley's Division of Social Sciences, said to Berkeley News.
Of the five professors, all are advocates of climate change and many have research focuses that center on social justice.
Maya Carrasquillo, one of the new hires, describes herself as a "Social Justice Engineer" and "Scholar Activist" whose research combines critical race theory with environmental studies and urban infrastructure.
"Social justice and engineering are treated like oil and water, when they should be treated like cookies and milk!" she says on her website.
Another new hire, Daniel Aldana Cohen, has been active in Green New Deal policy development and co-authored a book promoting the policy in 2019. His research centers on "investigating the intersections of climate change, housing, political economy, social movements, and inequalities of race and social class in the United States and Brazil."
Zoé Hamstead, who was brought onto the team for her work in city planning, is currently working on a project called Critical Heat Studies, which "applies tenets of racial justice developed within legal and educational theory to understand why thermal insecurity has long been neglected as a fundamental environmental threat and social determinant of health, although it is deadlier than all other weather-related disasters."
Professors dinged for 'treat[ing] everyone the same'
The university has promoted the cluster hire as filling a need for "greater diversity of ideas." But the explanation of intellectual diversity given by Ben Hermalin, vice provost for the faculty, was unusual.
"Higher education hasn't been diverse in its topics of inquiry, its academic pursuits," Hermalin said to Berkeley News. "It's been too Eurocentric, too focused on the issues of people who are doing relatively well. Populations have gotten neglected."
When The College Fix asked Berkeley to clarify what kind of diversity it was looking for, a spokesperson said that while "diversity of perspective is certainly a core value" for Berkeley, contributing to equity and inclusion goals is "credited in the same way as other faculty achievements."
"These contributions to diversity and equal opportunity can take a variety of forms including efforts to advance equitable access to education, public service that addresses the needs of California's diverse population, or research in a scholar's area of expertise that highlights inequalities," Janet Gilmore, Senior Director of Strategic Communications, wrote in an email.
The Berkeley Office for Faculty Equity & Welfare provides a Rubric for Assessing Candidate Contributions to Diversity, Equity, Inclusion, and Belonging, abbreviated DEIB, which was created for hiring search committees. The rubric analyzes how well candidates adhere to DEIB goals.
According to the rubric, candidates can score low for defining diversity "only in terms of different areas of study or different nationalities" and not in terms of gender or race, stating that it is "better not to have outreach or affinity groups aimed at particular individuals because it keeps them separate from everyone else," or sharing an intention to "ignore the varying backgrounds of their students and 'treat everyone the same.'"
Cluster hiring is a practice becoming increasingly popular with universities, which use it primarily as another way to meet DEIB goals. Universities like Washington University in St. Louis, San Diego State University, and Penn State have also employed the hiring practice.
Five other cluster hires have been approved at Berkeley and are "progressing in various stages," Gilmore told The College Fix.
The proposed cluster topics are Native American and Indigenous Peoples, Anti-Black Racism and Social Inclusion, Latinx and Democracy, Artificial Intelligence and Inequality, and Understanding (Non) Citizenship.
MORE: UC Berkeley spends $25M a year, pays 400 employees to advance 'equity and inclusion'
IMAGE: cdrin / Shutterstock.com
Like The College Fix on Facebook / Follow us on Twitter