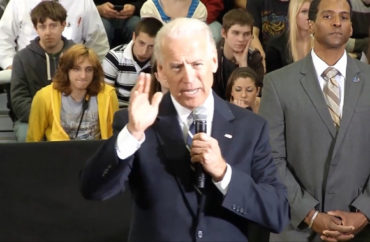 ANALYSIS
As National Youth Justice Action Month is marked in October, the Biden administration is again voicing allegations of racial disparity in juvenile misconduct prosecution, with a September 30 proclamation decrying such bias.
The statement underscores the Biden administration's dubious portrayal of racial disparities in school discipline and has led education watchdogs to question — and debunk — the narrative.
Biden's proclamation stated it is "imperative that we root out racial inequities."
It singled out academic institutions: "Addressing racial disparities in school discipline and supporting proven early intervention efforts … are simple steps we can take to help all young people find a sense of purpose."
The administration in the spring had signaled support for racial quotas in school discipline, claiming students of color are disproportionately disciplined compared to white peers due to racism and other biases.
In June, the Education Department released a notice seeking data and feedback from school districts to help develop and implement new school discipline policies with an eye toward racial justice — as well as a new emphasis on intersectionality.
"OCR recognizes students may experience multiple forms of discrimination at once and encourages commenters to identify and address individual and intersectional discrimination as appropriate. This might include, for example, comments on disproportionate discipline of
students of a certain race, color, or national origin who are also male, female, LGBTQI+, and/or who are also students with disabilities," the notice states.
Called the "Federal Register Request for Information Regarding the Nondiscriminatory Administration of School Discipline Notice of Language Assistance," it cites a 2019 report from the U.S. Commission on Civil Rights that concluded "Students of color as a whole … do not commit more disciplinable offenses than their white peers — but … receive substantially more school discipline than their white peers."
Such allegations have arisen from the state level as well, with Michigan Attorney General Dana Nessell warning the Biden administration that "failure to act will imperil a generation of youth and continue the school-to-prison pipeline."
While federal and state leaders' narratives paint a picture of grim discrimination, some educational experts tell a different story.
Education experts Hans von Spakovsky and Jonathan Butcher have criticized the department's focus on disparate impact. In a report for the Heritage Foundation, von Spakovsky and Butcher lambasted the strategy as "unlawful and unwise," asserting that a focus on race "endangers students and teachers" by creating discriminatory practices in the classroom.
Hans Bader, attorney and former senior counsel at the Center for Individual Rights, said that racial disparities in student discipline are rooted in actual rates of student misbehavior, not discrimination on the part of administrators.
"The differences are real," Bader told The College Fix. "They persist all over the country, and there is no suspicious pattern to them."
Bader points to the department's own data, citing a 2016 study that found 11.4 percent of black students got into fights at school in contrast to only 5.2 percent of white students.
In a piece for Liberty Unyielding, Bader writes about "obvious socioeconomic reasons for black students to misbehave at a higher rate than white students," citing data from the Brookings Institution that show higher levels of single parenthood in black communities, a trend associated with behavior problems in school.
But such seemingly common sense explanations aren't likely to be touted by the current Department of Education.
Bader, a former department employee, explained how even formerly "ardent supporters" of common-sense explanations for school discipline rates have discarded such solutions: "They won't acknowledge it anymore."
As for Biden's Department of Education, the cognitive dissonance at play seems palpable. Bader explained that there is no solution until the department stops making statements that run contrary to data solely to fit the preferred narrative.
"They just don't get it," he said.
MORE: Education Department eyes racial quotas in school discipline, expert warns
Like The College Fix on Facebook / Follow us on Twitter