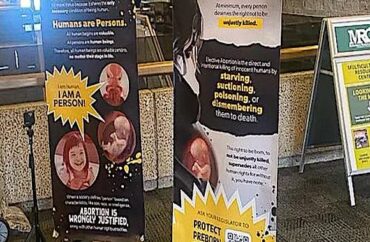 Prof told class 'no yelling' but they apparently did anyway
A professor of women, gender and sexuality studies at Binghamton University last month took one of her classes to "confront" an anti-abortion table manned by members of Students for Life of America and the College Republicans.
According to Pipe Dream, Dara Silberstein accompanied students in her "Activism, Feminism and Social Justice" course to the table display (pictured) after being informed that "anti-choice folks" were nearby.
Silberstein had "established ground rules" for her students, telling them to "respect the tablers' right to free speech" and that "no violence or yelling" would be permitted.
Nevertheless, the College Republicans' Logan Blakeslee said members of the class began chanting "Hey hey, ho ho, anti-choice has got to go."
The SFLA display included images of fetuses and small children along with the phrases "I am a person" and "abortion kills human persons." Posters also included the words "suctioning" and "poisoning" in their descriptions of the procedure.
Professor Silberstein (pictured) objected, telling Pipe Dream she "know[s] the impact of anti-choice tabling" and that the display would be "more impactful" if it was "based on facts rather than the pseudoscience."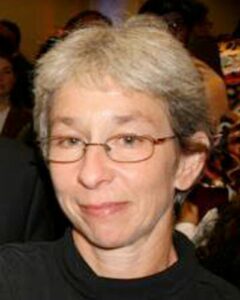 Some students upset at the images reportedly "dropped model fetuses into their mouths"; however, Pipe Dream reporter Ella Connors told The Fix via email she "did not know" if these folks were members of Silberstein's class.
MORE: Abortion activist eats baby model at New York community college
According to a post from the SFLA Blog, Blakeslee noted "a professor" had "cheered on" one of the fetus-swallowing students.
SFLA also reported that protesters stole a "12-week fetal model" from the display.
BU Abortion Advocacy Coalition President Abbey Scherer complained that the SFLA display violated a "safe space" and was used to "shame and scare students [with] triggering images and discriminatory language."
Scherer added that BU students are ready to "push [SFLA] right back out" if it comes back to campus because the group traffics in "misinformation" and "hate."
[SFLA's Penelope] Rose asserted that babies do not choose to die and pro-lifers "support choices," in a recent blog post. She said that if somebody chooses to engage in sexual acts that could potentially create "new life," they should choose parenting or adoption.

William Anderson, the president of the currently unchartered Students for Life chapter at BU and a junior majoring in biology, described why he was starting the group.

"One of the messages we want to spread and part of the reason we are establishing the [Students for Life] chapter is that there are people out here fighting for the pro-life cause," Anderson wrote. "Many pro-life people believe that they are alone in their beliefs and that they cannot speak about their beliefs. We are willing to fight for this cause even in the face of opposition, and pro-life people should not fear being alone."
According to her faculty page, Silberstein currently is working on "a project about the development of the public librarian profession in the United States examining how the relationship between gender-based and sexuality-based assumptions influences one's occupational status."
She's also the director of the BU Women's Studies Program and has worked for almost 30 years "to strengthen the kind of feminist scholarship and pedagogy that best represents" the school.
MORE: Professor praises country singers' new songs touting abortion
IMAGES: Pipe Dream/Facebook; Binghamton U.
Like The College Fix on Facebook / Follow us on Twitter