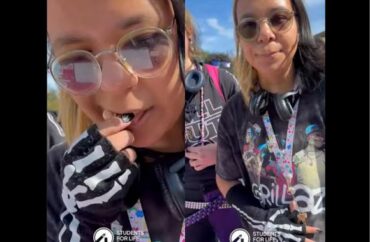 Abortion supporters swarm pro-life display, jump on police car
A pro-abortion student chewed on a fetal model while her peers spat and swarmed the pro-life display at Onondaga Community College.
Another student also attacked a display of pink crosses called the "Cemetery of the Innocents," meant to commemorate lives lost to abortion.
Students for Life of America staffer Savannah Craven wrote she "brought a display consisting of 1,025 pink staked crosses to represent the lives lost to Planned Parenthood nationwide every single day, and I also brought preborn baby models to showcase the humanity of life in womb in its various stages," to the Syracuse, New York college.
"Together with two OCC students, we were looking forward to making a positive, pro-life mark on campus," she wrote on Sep. 29. "I had no idea that I would scramble to leave campus later that day with damaged and missing property — some of which (although plastic) was actually eaten — in a police car for my own safety."
Craven and the students were on campus to ask students if abortion giant Planned Parenthood should receive taxpayer dollars. But as Craven reports, things quickly turned south.
From her article:
Soon after setting up my display, an angry student approached, yelling profanities at me, kicking my display, and threatening to get me thrown off campus. Campus police were called to the SFLA display, but when they realized what was going on (perfectly legal activity within my First Amendment rights), they dismissed the pro-abortion student and walked away after a few minutes of monitoring…

…Soon after the police presence was gone, an angry mob began swarming around the display, verbally attacking me and attempting to intimidate me.

Voices from the mob were screaming that I "wasn't providing resources to help women" except that's exactly what I was doing. As a pro-lifer genuinely concerned for women, I had a Sexual Assault Hotline resource, local pregnancy center resources, and information about SFLA's Standing With You supportive services initiative to hand out. They were just mad I wasn't handing out condoms.
She wrote her materials were "torn up" by the abortion activists. Another abortion supporter kept spitting while talking but did not change his behavior after Craven asked.
Even when Craven tried to leave, the activists continued to harass her.
"When I needed to pack up and leave to attend a fundraiser for women in the community, I was still packed inside the abortion supporters' loud mob," she wrote. "Seeing my distress, campus police escorted me safely out of the situation but not without being actually chased by the mob. They even went so far as to jump on the police car to prevent me from leaving safely."
This is not the only time abortion activists have treated fetal models like a mid-morning snack.
Abortion supporters at both Binghamton University and Hunter College have been caught trying to eat the models.
The pro-life students at Hunter College also had their display vandalized by adjunct instructor Shellyne Rodriguez, who later threatened a reporter with a machete. Rodriguez now teaches at Cooper Union School of Art, as reported by The College Fix.
MORE: Mob surrounds pro-lifers, twerks on them, shouts vulgarities
IMAGE: Students for Life of America/YouTube
Like The College Fix on Facebook / Follow us on Twitter