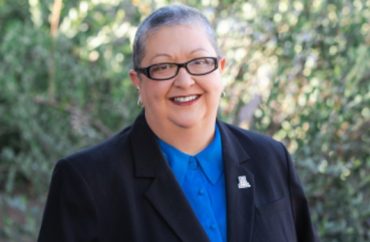 Complained about her calling police after student screamed at her
Black activists at the University of Arizona want to see a queer Latina diversity chief removed from her role due to several incidents, which they say show he is not a good fit for the role.
The Coalition of Black Students and Allies and the African American Student Affairs office continue to demand the university remove Interim Associate Vice Provost for Diversity and Inclusion Maribel Alvarez from her role. Alvarez is also an anthropologist and "folklorist." She describes herself as an "immigrant" and "queer" in her university bio.
The controversy includes Alvarez (pictured) calling the police on a "Black, queer and disabled student," named Kai Leigh Harriott, according to The Daily Wildcat.
An October Instagram post accused the university of "slowly and meticulously slaughtering BIPOC, Disabled, Queer, and Trans students, staff, and faculty members with extreme prejudice!"
An opinion writer for the campus newspaper wrote:
Harriott, a Black, queer and disabled student, said she experienced the first-hand effects of this abuse by several administrators at the UA, but most notably by the Interim Associate Vice Provost for Diversity and Inclusion, Maribel Alvarez. Alvarez's own title signifies that she is presumed to be someone that listens to those who are marginalized and oppressed by institutions. Yet, we have seen how people like Alvarez use their positions to enforce persecution against Black students.

Beginning on Aug. 31, a series of negative interactions between Harriott and Alvarez occurred that subsequently caused Harriott to attempt to file a complaint against Alvarez to the UA Office of Institutional Equity. Harriott was informed that her complaint would not be investigated.
Alvarez called the police on Harriott after the student refused to leave her office and began screaming at her on September 30. A friend of Harriott had earlier referred to Alvarez as a "bitch," according to a police report linked in the Daily Wildcat article.
"Harriott started to yell at Alvarez for the incident in the past," the police report stated. The diversity chief "asked Harriott multiple times to leave."
The student called her a "f***ing liar" and said "you're disgusting," to Alvarez. Three police officers subsequently arrived during the incident.
Faculty, students and outsiders also signed a petition demanding Alvarez's removal.
We stand in solidarity with them as they ask for a safe space on this campus, where a militarized armed presence is not evoked in response to cross-cultural and intercultural communication conflicts that could be de-escalated using a community-based approach. We understand the historical and current trauma that Black people in this country face as we grapple with larger societal issues, mental health crises, and reorganization of police for the safety and support of our communities.
"Dr. Alvarez has proven that she not only cannot fulfill her responsibility to this department but that she cannot embody and enact a safe and inclusive environment in ODI," a coalition letter from the diversity office staff argued. "Dr. Alvarez has had ample time for recourse and accountability but has refused to take responsibility for her actions."
"Rather, her public inaction and private communication have caused further harm to predominantly Black, indigenous, and people of color, queer, disabled, and trans students, staff, and community," the letter stated.
COBA has compiled information on the allegations against Alvarez and other administrators here.
MORE: 'Anti-racist' professor calls Herschel Walker 'subliterate'
IMAGE: University of Arizona
Like The College Fix on Facebook / Follow us on Twitter