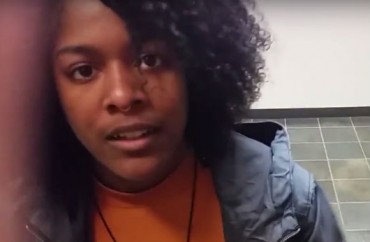 School says it's 'inclusive' to segregate
San Francisco State University student Bonita Tindle was captured on video this spring attacking a white student with dreadlocks. She was offended by his cultural appropriation.
She may be able to avoid white hairstyles more easily through a new university initiative to segregate black students on "Afro-themed dorm floors."
KPIX 5 reports that the plans are in "very early stages," in response to Black Student Union demands to "create a new space on campus where students can safely live and talk about issues affecting African-Americans."
MORE: Black student investigated for attacking white dreadlocks guy
Ironically, university spokesman Jonathan Morales said the school's goal in segregating black students was to be "inclusive":
SF State already has several themed dorm floors – one for science and tech, another for business, and another for civil and community engagement – this newest theme though would be specific around race and culture. They are calling it an Afro-themed dorm floor.
Officials claim the school won't turn away non-black students who want to live there – the floor will simply be "geared toward" black students. (Until a white floor resident wears dreadlocks … ?)
California State University-Los Angeles also recently unveiled segregated housing for black students in response to Black Student Union demands, joining the University of Connecticut, University of California-Davis and UC-Berkeley.
Like SFSU, CSULA said the segregated housing was "inclusive" and anyone could live there.
MORE: Black students blame America for dreadlocks attack
MORE: Cal State-LA gives black students segregated housing
h/t Campus Reform
Like The College Fix on Facebook / Follow us on Twitter
IMAGE: Nicholas Silvera/YouTube