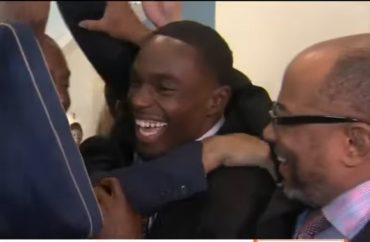 A council representing several black organizations wants the University of Wisconsin-Madison to readmit a student who had been expelled for sexual assault, but recently acquitted of the charge in a court of law.
UW football player Quintez Cephus was cleared of all charges in a mere 45 minutes earlier this month, but his lawyer told a local paper that the UW administration "gave him a 'clear message' that they don't want [Cephus] returning," at least not this coming semester.
According to Channel 3000, on Thursday the Black Leadership Council of Dane County issued a press release stating that UW "may be considering exacting additional punishment for something [Cephus] did not do."
"We recognize that the university often takes what it deems precautionary measures to ensure the safety of individuals and students as a group," the BLC statement said. But Cephus would be subjected to "a kind of double jeopardy" if UW disciplines him for something of which he's been exonerated.
The council said the campus is ranked 14th out of the 14 Big Ten institutions on diversity and has a long way to go when it comes to improving relationships with the black community.

"Almost every African American student can report at least one incident of racial violence—racial epithets, harassments, and threats," the statement said. "Learning that even a legal exoneration will not provide one with a second chance does little to engender the idea that the university has a racially welcoming climate."

The council said the university has an opportunity to help Cephus after one of the most horrifying ordeals of his life.

"The school year will begin in just a few weeks and knowing the academic calendar better than most you realize how important it is for Mr. Cephus to begin at the start of the semester. We urge you to give him an opportunity for re-entry immediately so he can begin as soon as the semester commences," the statement said.
The Wisconsin State Journal says Chancellor Blank is "between a rock and a hard place" on the Cephus issue. She has to  "consider the ramifications for two groups": African-Americans, who are "disproportionately affected by the criminal justice system," and women who allege sexual assault.
There is no deadline for Blank to make a decision; however, UW spokesman John Lucas said one will be made "as soon as a thorough and complete review can be completed."
Read the Channel 3000 and State Journal articles.
MORE: UW refuses to readmit football player after he's exonerated of rape: lawyer
IMAGE: Channel 3000 / News 3 Now/ YouTube
Like The College Fix on Facebook / Follow us on Twitter