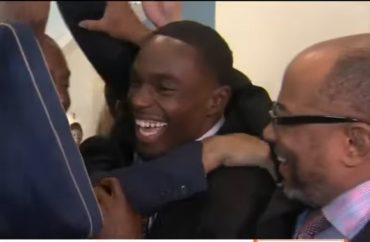 Requires him to prove 'enthusiastic, affirmative and ongoing consent'
In the eyes of the criminal justice system, as of last week, Quintez Cephus is not guilty of sexual assault.
In the eyes of the University of Wisconsin, which expelled the ex-football player in March, Cephus may have still broken campus regulations that require him to prove he had "enthusiastic, affirmative and ongoing consent" throughout any sexual encounter.
Cephus's lawyer Stephen Meyer told the Wisconsin State Journal that the administration gave him a "clear message" that they don't want him returning to Madison "this semester."
The university has no excuse not to readmit him, the lawyer said, because of everything that came out at the criminal trial.
The jury took less than 45 minutes to exonerate Cephus of sexually assaulting two women in his apartment, after viewing surveillance video that undermined his accusers' claims that they were too intoxicated to consent.
He was suspended a year ago from the Wisconsin Badgers, and the university found him responsible for sexual assault after a Title IX investigation. It expelled him in March, about four months before the criminal trial started.
After his lawyer's statement, the university quickly denied that it had made a decision about Cephus. In its own statement on his exoneration, the administration said it was still reviewing his "petition for readmission." According to the Journal, Chancellor Rebecca Blank must consult the Title IX coordinator to decide whether to readmit Cephus.
MORE: Michigan State paid falsely accused football player $725K to drop suit
The university said Cephus did not include "all relevant court records" in his petition, which it needs to make a decision, and that it is "working to gather this information." It continued that Cephus's exoneration is irrelevant to whether he violated the student code of conduct, which requires a much lower burden of proof.
Simply by claiming they couldn't remember much of the night in question with Cephus, his accusers are likely to be seen as more credible than him by UW-Madison. Title IX training often relies on pseudoscience that claims victims of sexual assault will block out or mix up details, which contradicts neuroscience and memory research.
Blacking out is also not necessarily evidence that a person was incapacitated during sexual activity.
As a pharmacologist testified in an accused student's lawsuit against Ohio State University, which ended badly for the school, blacking out simply means that the mind is not successfully transferring short-term memories to long-term storage. That means that an accuser may not remember consenting at the time, not that the accuser was necessarily incapacitated at the time.
MORE: U. Oklahoma football player cleared in Title IX investigation
Seven of his former teammates called on Chancellor Blank to reinstate Cephus, considering she can make a "fully informed decision for the first time" – a dig at the university's Title IX proceeding. They said allowing the return of Cephus, a black man at a predominantly white institution, "can alleviate a racial tension felt by your students."
Now that the trial is over, Cephus may end up refiling a lawsuit against the university stemming from its decision to start the Title IX investigation while he was unable to participate, due to the criminal proceeding. He shelved it in March.
According to the Journal, the lawsuit said the administration intentionally forced him to "either waive his Fifth Amendment right against self-incrimination" or sit out the university proceeding, "thus leading to the inevitable finding of responsibility and severe sanctions."
If the university doesn't readmit him, "the gloves will come off and all options will be on the table," Meyer told the newspaper.
Read the article about the latest development.
MORE: American Bar Association considers recommending affirmative consent
MORE: Title IX training is brimming with junk science peddled by amateurs
IMAGE: Channel 3000 / News 3 Now/YouTube
Like The College Fix on Facebook / Follow us on Twitter