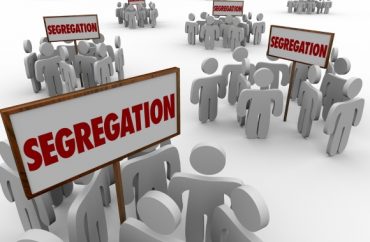 'Increased sense of ethnic victimization and a decreased sense of common identity …'
Accommodating students of color by giving them a safe space doesn't work — it actually has a harmful effect on their relationships with other ethnic groups on campus.
So says James Sidanius, a Harvard University professor of psychology and African American Studies and the author of more than 330 scientific papers on race, oppression, diversity and other topics.
In 2004, long before the mainstream media started extensively covering the safe space and self-segregation trends in higher education, Professor Sidanius co-authored a paper titled "Ethnic Enclaves and the Dynamics of Social Identity on the College Campus: The Good, the Bad, and the Ugly."
Reached for comment this month by The College Fix, Sidanius said his research can be applied to today's trends, but it's nothing really new.
"I don't see any signs that [ethnic enclaves have] gotten worse, it's probably remained relatively constant, we're just paying more attention to it now," he said.
Sidanius investigated the effects of membership in "ethnic organizations," otherwise known as "ethnic enclaves," in his research. Examples of such ethnic organizations could include, for example, a Black Student Organization or a Chinese Cultural Association.
For students who are members of these types of ethnic-themed organizations, Sidanius discovered during his research that "effects included an increased sense of ethnic victimization and a decreased sense of common identity and social inclusiveness."
These ethnic organizations are often very in line with today's "safe space" ideology — the notion that being segregated from what oppresses you or makes you feel uncomfortable is beneficial.
Students of color today frequently demand — and receive — ethnic enclaves of various sorts, seen in everything from housing and social gatherings to protests and grief sessions. While they are not exactly the same as "ethnic organizations" Sidanius' research looked at, the impact of segregation can still apply.
Sidanius' research points out that "among minority students the evidence suggested that membership in ethnically oriented student organizations actually increased the perception that ethnic groups are locked into zero-sum competition with one another and the feeling of victimization by virtue of one's ethnicity."
He reiterated those findings in his interview with The Fix.
"Once having joined these [ethnic] organizations, the more likely [students] were to feel that they were in this zero-sum relationship with other ethnic groups on campus, and the greater level of hostility they had towards other members on campus, the greater the degree to which they felt ethnically victimized by other ethnic groups on campus," he said.
MORE: Being a 'victim' has become a badge of honor on campus
MORE: Cal State LA offers segregated housing for black students
But while his research discovered ethnic segregation actually has a negative effect on its stated goals of multiculturalism, diversity and inclusion, administrations at thousands of colleges continue to justify these groups as having an overall positive effect on the campus community.
Sidanius, in his interview, elaborated on what he believes is a better fix for racial tensions: Cross-ethnic exposure and communication help soothe tensions—not safe spaces and self-segregation—he explained.
In another study he said he found that students who were randomly assigned to roommates who were a different racial category than themselves "had lower levels of hostility towards other ethnic groups" and that increased contact between students of different backgrounds "increased the level of positive interchange."
When asked whether his research had any effect on college diversity programming, Sidanius said it's complicated.
"They were in a bind about what to do with the ethnic student organizations, because they didn't want to forbid or outlaw fraternities, sororities, or ethnic organizations, so they didn't do much of anything," he said.
Sidanius told The College Fix that if administrators wanted to help improve race-relations on campus, that they could try to offer programming that brings students of different racial backgrounds together, not pulls them apart.
MORE: Students of color embrace segregated spaces
Like The College Fix on Facebook / Follow us on Twitter
IMAGE: Shutterstock