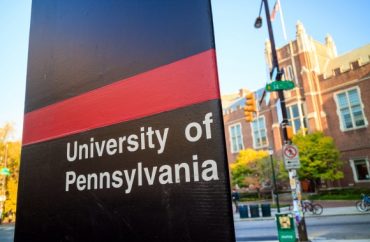 A black University of Pennsylvania student recently declared that his fall semester at the Ivy League institution was "traumatic" because he had three white professors who refused to acknowledge their privilege, and one scholar in particular who "constantly perpetuated these systems of oppression … [that] led to me mentally breaking down in the classroom."
Student James Fisher wrote about his experience earlier this month in an op-ed in the Daily Pennsylvanian campus newspaper.
In it, Fisher opens by saying: "Last semester was honestly the worst semester I've had at Penn so far. And all because of one thing: the white professors I've had at Penn. It appears that the term 'privilege' does not apply to them. Nor do they care to learn what it is."
Fisher wrote about his experience with one professor, noting that there "were countless times that his lack of acknowledgment of his privilege led to some of the trauma that I experienced in class. He would show images of slaves on plantations and even allow students to say ignorant comments in class."
"… So, because my professor wanted to protect the voices of the white students who benefit from black oppression, the oppression unfortunately continued. It even led to me mentally breaking down in the classroom," Fisher wrote.
"And while trying to console me, [the professor] said, 'There is no way that I could acquire the wisdom that you possess.' That was exactly what I needed to hear! I think he thought that that was a compliment," Fisher continued.
"I stopped going to his class for a month. With different emotions going through my head from not only this class but from the Trump election, I did not want to step foot into another white space until I made sure that my mental health was restored."
The column ended by arguing: "The truth is, you as a single person cannot make up for the horrific things that white people have done to us throughout human history. But that does not mean that you do not have the power to stop yourself from oppressing the students that you teach every day. You have to be invested in stopping racism and oppression every day, not just on your free time."
Reached for comment by The College Fix, Fisher was asked how he thought white people at Penn benefit from oppressing black people.
"Well, the same way white people in general benefit from black oppression," Fisher told The Fix.
"So, since we're oppressed, right, we're not able to perform at our best, so they use that and they take advantage of their privileges of not being the types of people to be looked at by police, right, by not being the types of people that are constantly scrutinized by American society, and they use that to their benefit," Fisher said in a telephone interview.
Fisher added that he thinks other black students at UPenn "strongly" agree with him, and that colleges and universities could better accommodate black students if they would stop talking and start listening.
"If the majority of people in that classroom, or the majority of voice that we here in a typical class section, is a white male's voice, maybe it shouldn't be heard that much," Fisher told The Fix. "You know there's something wrong with that narrative if other narratives are not getting sort of more recognition or more clout."
"I get that you're always searching for us [minority students] to get the answer," he said, "when all you have to really do is just shut up and listen."
UPenn University Communications declined to comment on this story.
MORE: Here's what oppression REALLY looks like
MORE: Protest against 'oppression' offered echoes of a race war
Like The College Fix on Facebook / Follow us on Twitter