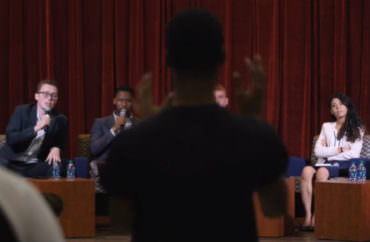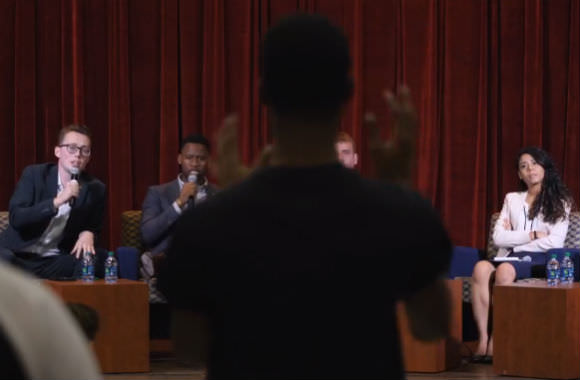 Black speaker on 'identity politics' panel doesn't get 'the black struggle'
The "Unsafe Space" campus tour, sponsored by the online British magazine Spiked, made its second stop at Rutgers University earlier this week.
The panel topic was "Identity politics: the new racialism on campus?" and discussion included "hypersensitivity," cultural appropriation and microaggressions.
From the start it went better than last week's scheduled debut at American University: Rutgers administrators didn't yank away the auditorium reservation on a last-minute technicality designed to avoid counterprotests, as did their private counterparts in D.C.
Ella Whelan, assistant editor at Spiked, told The College Fix in an email Tuesday the Rutgers event was briefly interrupted by a Black Lives Matter activist who tried to skip the Q&A line (25:45 mark, below).
"But the great thing is that we got them to sit down, wait their turn and participate in the discussion!" said Whelan, a panelist at the Sept. 28 D.C. event that was hastily moved to the Reason office:
[Protesters] came with air horns and protest material, but were forced to accept that they didn't need to protest us to get their voices heard – we gave them the mic in the Q&A.

The result was a great example of why free speech is important!
MORE: American U canceled 'Unsafe Space' event because it wasn't a 'meeting'
The Daily Targum reported that "hundreds" of students and faculty attended, and though "tensions quickly rose between the protesters and counter-protesters," the protesters' energies seemed most focused on whining to a reporter:
Mackenzie Miller, a School of Arts and Sciences senior and a member of [protest coalition group] Rutgers One, said that he hoped the protest would demonstrate the Rutgers community's rejection of Unsafe Space's "divisive" rhetoric. …

In the press release for the counter-protest, Miller said it is important to understand that events like "Unsafe Space" risk ushering more bigoted and racist beliefs onto the campus.

"Rutgers One believes that respect and sensitivity do not present a threat to free speech and that the real threats to students lie in racism, homophobia, misogyny, and other forms of oppression," he wrote.
In response to Freethink Media partner Kmele Foster, who is black, arguing that police violence does not uniquely target black lives, "members of Black Lives Matter Rutgers said that the panelists had not properly acknowledged their point of view," the Daily said:
"They literally didn't answer any questions that we asked," said Bashir Herbert, a School of Arts and Sciences junior and the secretary of Black Lives Matter Rutgers. "They had no idea about the black struggle that we're dealing with. They were just answering things based on statistics."
The event was hardly a conservative echo chamber. Columbia University Humanities Prof. Mark Lilla, author of the new book The Once and Future Liberal, argued identity politics was weakening the fight against the "Republican party" agenda of "reducing the rights of women to get abortions, of black people to vote and of gay couples to be treated equally," according to the Daily.
Rutgers also served as the jumping off point for a far more divisive event series: It was the first stop on the "Dangerous Faggot Tour" by anti-feminist gay provocateur Milo Yiannopoulos last year.
Protesters there splattered blood-colored paint on themselves and others and vandalized the venue, and engaged in back-and-forth insults with Yiannopoulos. By those standards, the Unsafe Space tour has been downright … gentle.
MORE: Blood paint, vandalism greet Milo at Rutgers
IMAGE: Learn Liberty/Facebook
Like The College Fix on Facebook / Follow us on Twitter