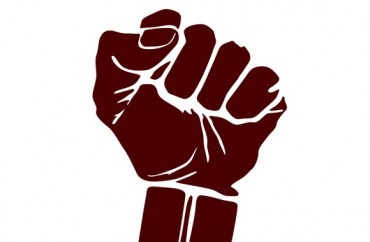 Dartmouth College students simply studying in the library on the night of Nov. 12 got the shock of their lives when a profanity-laced mob of Black Lives Matter student protesters stormed the building and dropped F-bombs left and right, as well as pushed and shoved some students, the Dartmouth Review reports.
"F*** you, you filthy white f***s!" "F*** you and your comfort!" "F*** you, you racist s***!" …

The flood of demonstrators self-consciously overstepped every boundary, opening the doors of study spaces with students reviewing for exams. Those who tried to close their doors were harassed further. One student abandoned the study room and ran out of the library. The protesters followed her out of the library, shouting obscenities the whole way.

Students who refused to listen to or join their outbursts were shouted down.  "Stand the f*** up!"  "You filthy racist white piece of s***!"  Men and women alike were pushed and shoved by the group.  "If we can't have it, shut it down!" they cried.  Another woman was pinned to a wall by protesters who unleashed their insults, shouting "filthy white b****!" in her face.
The Review goes on to report that the protesters have not only not denied the description of the evening, but defended it as making students uncomfortable in the name of fighting oppression.
And even though it seems like it could not get worse, it does. The Review goes on to note:
The kicker, of course, is that this crystal clear picture of Dartmouth's deep-seeded racism never quite seems to come into focus, no matter how far we step back. From the protesters, we hear anecdotes about insensitive party themes, and reminders of our lack of black professors. And of course, these issues fit into the broader context of a school characterized by historical wealth and whiteness, which can make students from other backgrounds feel forlorn outside the cultural mainstream. But as Dartmouth's protesters swept through the library, bellowing at every student who dared not to stand for the cause, they were accusing our community of something much graver than insufficient attention to minorities' concerns.
Like The College Fix on Facebook / Follow us on Twitter