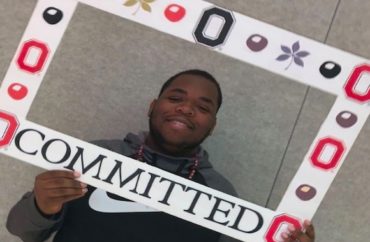 The parliamentarian of the Ohio State University student government is under fire for stating his belief that black people "are superior."
John Fuller, who's black, made the claim during a presentation for a resolution against "anti-critical race theory legislation," The Lantern reports.
"I would absolutely love to live in a world where Black people were taught that they are superior," Fuller said. "I would love it because I full-heartedly believe that."
Fuller alleged white people "learn through lived experiences" that they are superior.
During the presentation, Fuller said white supremacy is a "'relatively new, 'heavily debated' term that is not taught because 'a lot of people don't like calling white people superior.'"
"By taking away the teaching of one race as superior to another, that is inherently white supremacy because white people learn from birth that they are superior. There is nothing that they need to be taught in school that tells them that," Fuller said.
MORE: Student op-ed: Capital 'B' in 'Black,' lowercase 'w' in 'white' combats white supremacy
As part of Ohio State's "anti-racist" curriculum, students are being taught that "black people are superior".

John Fuller (speaker) majors in family development and will most likely teach children in his career.

Care to comment @OhioState? pic.twitter.com/GCSZeNi11m

— Mythinformed MKE (@MythinformedMKE) April 11, 2022
USG President Jacob Chang said once Fuller made the comment, the Speaker of the General Assembly Bobby McAlpine dismissed him, saying the chamber does not support his rhetoric. Members of the General Assembly reported video and audio recordings to the Office of Institutional Equity.

"The comments made during the General Assembly session is fundamentally, like, diverging from our values as the student government of Ohio State," Chang, a fourth-year in psychology and political science, said. "Therefore, it is our responsibility to report a case like this. I think we need to stand in solidarity with all people of color and anyone who suffers from racism, but we need to do it from a space that is unilaterally empowering everyone around them instead of like single out one group." …

Chang said multiple senators considered impeaching Fuller for his behavior, but the impeachment process would not have concluded before Fuller's last day working in the current USG administration, which was Wednesday.
According to a now-deleted blog, Fuller says he "practice[s] Black consciousness" which he defines as "a mental understanding of Black individuality and uniqueness." He says "intellectual curiosity has enabled [him] to see discrimination and prejudice as ideas that are put into peoples' minds, creating mental barriers that are hard to overcome."
The OSU College Republicans issued a statement on April 6 saying they were "deeply dismayed" by Fuller's remarks. The group said "There's room for political disagreement, but every Buckeye should recognize race supremacy as dangerous," and it chided Fuller and the student government at large for wasting time over things for which they "have no jurisdiction."
MORE: Black Harvard student breaks foot jumping over a puddle, goes on rant about white supremacy
IMAGE: Ohio State U. screencap
Like The College Fix on Facebook / Follow us on Twitter