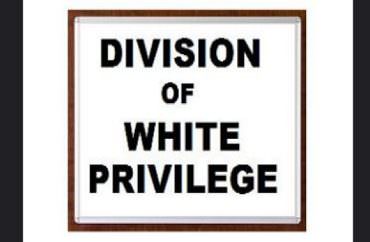 In a somewhat … refreshing turn of events, a black parent of a North Carolina elementary schooler is calling out school officials for sending home with kids a flyer on so-called "white privilege."
According to mom Amber Pabon, students at Hunter Magnet Elementary School in Raleigh came home with the two-sided handout last month, the third "step" of an eleven-point guide titled "Understanding Race, Racism, and White Privilege."
"I think the message itself is inappropriate because yes there is racism out here, and they need to learn about it. But let the parents do that," Pabon told ABC-11. "Because like I said, if she's teaching him the way she knows, it could be completely different from the way I know. And me being part of the black community, I know different from how the white community sees it."
Pabon added, "[My son's] 8 years old. What does he need to know about racism or white privilege?"
The flyer her second-grader brought home was titled "(Begin to) Understand the Concept of White Privilege," and begins thusly:
Here's a paradox: White dominates the culture, from our government leaders to our professors to our media stars. Yet – for the most part, for too many White Americans – whiteness remains unexamined.

What does it mean to be white? Let's have that discussion!
It's followed by the (hilarious) classic "Saturday Night Live" sketch from the early 1980s where Eddie Murphy disguises himself as a white man to experience life from "the other side." (Try to contain yourself when Murphy describes how he "prepped" for the role.)
But the creator of "Understanding Racism" guide, Jon Greenberg, asks — seriously — as a follow-up: "While the skit is limited in its black/white binary approach, how much truth does it hold?" (Emphasis added)
According to the ABC-11 report, the flyers are not associated with the curriculum but are part of the school's PTA "Advocacy Team" (which the school website confirms):
Off-camera, multiple members of the school's PTA emphasized the content is aimed at parents, not students. They added that steps are sent home weekly, and are also e-mailed and posted to the PTA's Facebook page. Parents have the choice to opt-out of receiving messages on the subject, which Pabon has since done.
On Greenberg's website, he notes that one of his influences is the Pacific Educational Group's Glenn Singleton. The College Fix has covered this consultant before, most notably here in which a fellow black educator takes his ideas to task.
MORE: The poison that is the 'Courageous Conversation' reverse-racism program
MORE: Chicago area school ditches all-day white privilege seminar after parent outrage
IMAGE: Mike Licht/Flickr
Like The College Fix on Facebook / Follow us on Twitter