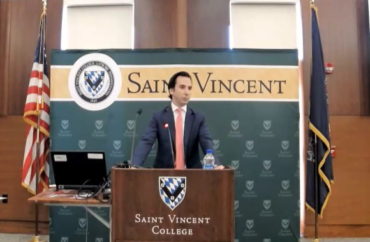 A speech recently given at Saint Vincent College on "black privilege" caused controversy and prompted administrators to create a new policy that allows them to pre-approve future speakers.
Rev. Paul Taylor, the college president, said the policy will ensure "the message to be delivered is one that abides with the spirit and mission of the college," TribLive reports.
The speech at the center of the controversy was titled "Black Privilege and Racial Hysteria in Contemporary America." It was given by David Azerrad, assistant professor and research fellow at Hillsdale College's Van Andel Graduate School of Government.
Part of a larger conference that featured a half-dozen scholars who have taken contrarian points of view against the leftist narrative on college campuses, Azerrad's speech was hosted by St. Vincent's Center for Political and Economic Thought earlier this month.
Azerrad's one-hour talk was primarily focused on how "special arrangements extended to black Americans, including lower academic standards and de facto immunity in many cities from prosecution for low-level felonies, profoundly disserves both them and their fellow citizens," City Journal reports.
At the start of his speech, Azerrad said Vice President Kamala Harris is clearly inept at her job and yet she blames racism for her low approval ratings.
"Our first affirmative action vice president is blaming her unpopularity, not on her unpleasantness or incompetence, but on prejudice," he said, according to his speech, a video of which is available on YouTube.
Azerrad went on to say that former President Barack Obama's daughters have "more privilege" than any white kids in West Virginia as an anecdote to his larger point that there are different kinds of privilege that all Americans of various races enjoy.
"I think the greatest privilege that black Americans enjoy today is a moral privilege," he said during his speech. "Black people constitute the benchmark of justice by which all is to be judged today."
He also discussed corporate America, which he noted "is fully on board the diversity train."
"In 2015 when the racial preferences in the state of Texas were challenged before the Supreme Court, 45 corporations filed amicus briefs supporting affirmative action. Not a single corporation filed an amicus brief opposing it," he said.
Azerrad also tackled the criminal justice system.
"Thankfully, for now, laws are still enforced in America against criminals of all skin colors," Azerrad said. "That being said, it seems to me that the winds of decarceration and decriminalization are blowing strong. And everyone feels the pressure to go easy on black criminals, usually via the route of going easy on crime."
"So across the country, we have district attorneys who have publicly announced that they would no longer charge criminals — black, white, Asian, or Hispanic — for a bunch of crimes like shoplifting, vagrancy, drug possession, and any other number of misdemeanors on the grounds that it is better not to enforce the law than to arrest and incarcerate people of the wrong skin color," he said.
"The critical race theorists go even further. Some of them are proposing that we exonerate guilty black criminals."
His speech, which included a question and answer session, resulted in a lot of backlash from a handful of students who complained to the school.
As a result, campus leadership denounced the speech in a statement.
"Saint Vincent does not endorse the promulgation of any point of view which may be interpreted as a form of invidious discrimination which inherently degrades the sanctity of human life," the statement read.
"We are an institution which has served our community for over 175 years and, in that time, we know that the country has struggled to overcome systemic bigotry against many people. While we have seen much success in this regard through the prayers and earnest efforts of many people of all races, religions and backgrounds, we know that the evolution of the human race to a point where bigotry is confined to the pages of history has many miles yet to travel."
Azerrad, in a telephone interview with The College Fix, said he was somewhat surprised by the college's reaction.
"I actually didn't get much backlash when I gave the speech," he said. "There were a couple of light heckles. No one interrupted me during the speech. I thought the Q and A was quite respectable."
"What shocked me was what happened afterwards," Azerrad added. "A handful of students complained to the school, which resulted in the school making a statement against me. I don't fault the students for being upset — kids will be kids. But the adults who run the universities should realize that college is a place where students can be exposed to different ideas. But it's the adults that are bending a knee."
When asked about why he decided to give his talk on the topic of race, he said it's a pressing matter today.
"My ultimate commitment is to America and what makes America a great and free nation," he said.
Saint Vincent College has not responded to requests from The College Fix seeking comment.
MORE: College set to fire professor who tweeted 'Black privilege is real'
Like The College Fix on Facebook / Follow us on Twitter