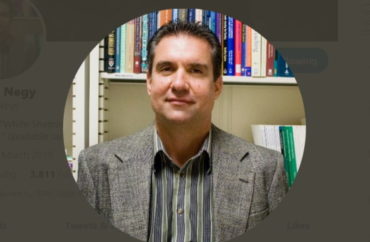 Scholar's attorney says university is abusing its power to terminate professor
The University of Central Florida is set to fire embattled Professor Charles Negy, accusing him of creating a "hostile" classroom environment, the Orlando Sentinel reported this week.
Negy became a target of intense Black Lives Matter protests over the summer after he tweeted: "Black privilege is real: Besides affirm. action, special scholarships and other set asides, being shielded from legitimate criticism is a privilege. But as a group, they're missing out on much needed feedback."
He has since deleted the tweet and a few others that caused controversy at the time, but a petition demanding he be fired had garnered nearly 35,000 signatures and protesters even targeted his home.
The university launched an investigation amid the turmoil and recently concluded Negy is guilty of classroom "misconduct," the Sentinel reported, adding his termination will take effect Jan. 25.
"None of the findings in the investigation are a result of Dr. Negy's comments on Twitter, which are protected as free expression, or comments in the classroom that were the subject of some students' complaints but that the university determined were protected by academic freedom," university spokesman Chad Binette told the Sentinel.
Binette also told the news outlet that university investigators interviewed more than 300 people, reviewed hundreds of documents, and listened to many hours of audio, to make their determination.
"I disagree with almost all of the allegations, and that's all I can say right now," Negy told the Sentinel.
Negy's attorney, Samantha Harris, weighed in on the development on Twitter.
"UCF threw its full weight behind destroying @CharlesNegy for daring to speak his mind. I've been doing this a long time and have rarely seen such an egregious abuse of power," she tweeted Friday.
"If you were a student or faculty member at UCF now," Harris added, "having watched the university embark on a seven-month, heavily resourced campaign to destroy someone who ran afoul of the ascendant orthodoxy, would you ever speak out?"
UCF threw its full weight behind destroying @CharlesNegy for daring to speak his mind. I've been doing this a long time and have rarely seen such an egregious abuse of power. https://t.co/aPjvg1iR27

— Samantha Harris (@samk_harris) January 15, 2021
In fact, there is pressure on the University of Central Florida to launch an investigation into another professor who said something unpopular. Students and a state lawmaker are calling on the university to probe an adjunct professor for referring to the coronavirus as the "Wuhan Corona virus."
As for Negy's situation, Harris penned a lengthy piece in Quillette in August detailing his plight. Headlined "The Florida Inquisition," it first painted a picture of Negy and his teaching style:
Professor Charles Negy is a wonderfully eccentric man, someone who teaches extraordinarily controversial subjects—Cross-Cultural Psychology and Sexual Behavior—with bluntness and humor. He is exactly the kind of professor you want in college: someone who is passionate about his subject, who will challenge your deeply-held assumptions, and who encourages free and open discussion in the classroom. Negy's bluntness has occasionally ruffled feathers over the years, but throughout his 22-year career at UCF he has received consistently superior performance reviews. For the past four years, for example, he has received an evaluation rating of "Outstanding" for his instruction and advising.
But Harris went on to note that since administrators knew they could not fire him for his Constitutionally protected free speech, they "chose a different strategy … a witch hunt into Negy's classroom speech":
A June 4th message posted to UCF's website from the president, provost, and chief diversity officer addressed the content of Negy's tweets directly and then stated: "If any student, current or former, believes they may have experienced abusive or discriminatory behavior by any faculty or staff member, we want to know about it. UCF takes every report seriously. Concerns can be reported to UCF's IntegrityLine, which also takes anonymous complaints." (Emphasis added).

UCF's clarion call worked. Since June 4th, a litany (we don't know the exact number, because they won't say) of complaints has been lodged against Negy for his classroom pedagogy, for speech that allegedly occurred over a 15-year period from 2005 to 2020. The university charged Negy with discriminatory harassment on the basis of race, ethnicity, national origin, sexual orientation, religion, sex, gender identity/expression, and disability—it is worth noting here that Negy himself is both an ethnic and sexual minority—while providing him with only a handful of "examples" of his alleged wrongdoing. Negy begged for more information prior to his investigative interview so that he might prepare to defend himself, but UCF refused.

Instead, last Friday the university subjected Negy to an "investigative interview" that was one of the most Kafkaesque things I have seen in my 15 years advising students and faculty about campus disciplinary matters. For four straight hours, UCF's investigator grilled Negy about accusations stemming directly from his classroom pedagogy, having made no effort to weed out the countless accusations that were obviously just critiques of his choice of teaching material. UCF also made no effort to consolidate allegations, repeatedly asking Negy variations of the same question, ad infinitum. And again, virtually all of these questions related directly to Negy's pedagogy, which deals with unavoidably controversial subjects. When Negy, physically and emotionally exhausted after four hours of interrogation, asked if the interview was almost over, we learned that the investigator had not even gotten halfway through her list of accusations. Since he could take no more, another five-hour inquisition was scheduled for the following week.
Negy has taught at the University of Central Florida for 22 years. He earned tenure in 2001. He is author of the book: "White Shaming: Bullying Based on Prejudice, Virtue-signaling, and Ignorance."
The New York Post reports Negy has been on paid administrative leave since early January, is not teaching this semester, and has until Jan. 25 to submit a written response to the allegations against him.
In a June interview with The College Fix, Negy denied allegations against him.
"I absolutely have never mistreated any student in any way, shape, or fashion based on any irrational reason (including students' race, gender, sexual orientation, etc.)," Negy told The Fix. "I've read some complaints online, so I don't know if they're truly being lodged. But what I've read are complete lies."
MORE: 'Black privilege is real' prof under fire: protest hits his home, students demand he be fired
IMAGE: Twitter screenshot /Charles Negy
Like The College Fix on Facebook / Follow us on Twitter