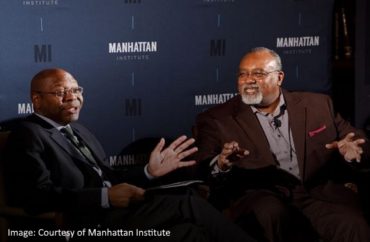 Manhattan Institute event discusses causes of hardships facing African Americans
NEW YORK — A group of prominent black scholars convened last Friday to discuss issues facing the black community in America. The discussion covered topics like single-parent households and the disconnect between elites and middle-class people, along with the sources of these problems, and potential solutions.
A common theme the panelists discussed was that the problems could not be entirely credited to the continuing legacy of white supremacy in America.
"There are stories out there. And one of the stories is that [an] unrelenting, overbearing white supremacist society won't give black people a chance," Brown University Professor Glenn Loury said. "And I ask them, do you believe that seven in 10 black children born to a woman without a husband, that fact, is due to an unrelenting white supremacy?"
Loury, a social sciences professor, made the comments during a conversation with The Wall Street Journal's Jason Riley for the Manhattan Institute event "Barriers To Black Progress: Structural, Cultural, Or Both?"
Loury acknowledged there are continuing impacts of racist laws stemming from the Jim Crow era, but he questioned to what extent these laws still impact life today.
"It's hardly such an implacable force holding me back," he said. "What I have to say to such people is 'grow up, no one's coming to save you.'"
Riley opened the institute's forum with a joke that there could be a conference based entirely on the blackface debate currently raging in America.
"But that's my point, that's what's different about what we're attempting to do today," said Riley, whose latest book "False Black Power" argues that electing black politicians in recent decades hasn't helped the black community fix its current woes.
"So much of the discussion about racial inequality gets hung up on these sorts of things. Of course, none of this should be ignored by the media. All of it is legitimate news," Riley said. "But does it explain racial inequality in America?"
Riley and Loury's 45 minute conversation centered largely on the Ivy League professor's new paper, "Culture, Causation and Responsibility: Some Reflections on the Persistence of Racial Inequality in 21st Century America."
Loury argued there is not enough dialogue within African-American communities about issues like achievement gaps and racial violence.
"On the issue of are cops good or bad for the security and safety of African American lives in an urban environment, what a profoundly important and significant question," Loury said. "Where is the debate amongst African Americans?"
"… I thought you cared about black lives, you're forcing me to the conclusion that you don't give a damn about black lives, what you care about is The New York Times editorial page," he said. "If you cared about black lives, you'd actually be out there arguing with people over this question of how do I secure the safety of person and property of people in places like the South Bronx."
During a Q&A session after his talk, one audience member pushed back on this claim, pointing to an example of a radio show titled "The Breakfast Club," which discusses progressive politics among other popular topics. Loury acknowledged that he had overlooked this fact.
Loury also criticized political correctness, describing it as a cul de sac where people are obsessed with not ending up on the wrong side of history, so they end up saying things they don't believe. Loury said he rejects the idea that racial inequalities can be entirely credited to the pervasiveness of white supremacy. And he concluded with an attack on policies like affirmative action, which he described as patronizing and saturated with the bigotry of low expectations.
Loury's talk was followed by a panel with three commentators who have also challenged mainstream orthodoxy: a professor, a rising star at Columbia University, and the leader of a charter school program in the Bronx. The panel was moderated by Howard Husock, vice president for research and publications at the Manhattan Institute.
Michael Fortner, assistant professor of political science at the CUNY Graduate Center, spoke about how he believes black political leadership is falling short, as there is more discourse in black communities about the dissolution of the family unit than among the politicians who purport to represent those communities.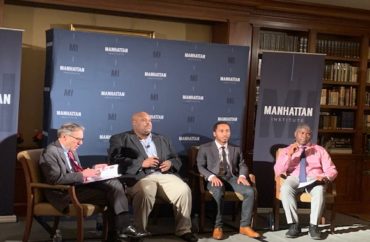 "If you look at the question of single parents, if you look to cultural elites, political elites, there's a very different discourse than the one going on in African American communities," he said. "If you go to any black church, most black churches, on a Sunday morning, you will hear, 'men ought to be fathers,' 'we need fathers in the home.'"
"It's this intellectual stream where everyone has read the New Jim Crow, where everyone loves — worships — brother Ta-Nehisi Coates, and a black leadership that feels that it must follow the lead of that ideological direction that consistently, I would argue, fails black communities who are embracing the good sense, pragmatic policies and a pragmatic middle ground," Fortner said.
Coleman Hughes, a widely published undergraduate student at Columbia University, took issue with the assumption that America is a racist patriarchy.
"The received view, the framing of the conversation is that America is a racist patriarchy, and you can make nuanced points from that starting place, but you can't challenge the fundamental premise," he said. "And if you do, as I've done in many a room, it can derail the whole night … I've ruined nights like this."
He said he believes social media has exacerbated some of the conflicts because only the most extreme events get filtered through that platform.
Ian Rowe, CEO of Public Prep, an organization that runs three tuition-free single-sex charter schools in the Bronx, expressed optimism about overcoming barriers.
He explained that Public Prep teaches a class called "Pathways to Power" to eighth grade students about what successful paths to follow.
He defended charter schools and claimed that "there is a narrative where one example can condemn a whole" when it comes to charter schools. He said that he sees charter schools and giving more choice to parents as one of the keys to overcoming obstacles.
"Being the child of a single parent doesn't guarantee failure," he said. But he stressed that the family unit must be strong to make lasting progress.
MORE: Conservative journalist counters narrative
IMAGE: Manhattan Institute.
Like The College Fix on Facebook / Follow us on Twitter