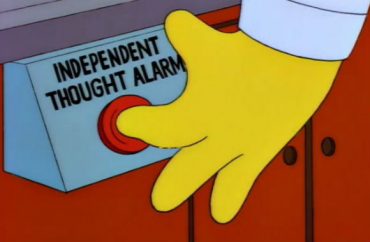 Student government leader suggests Republican invitees need its pre-approval
If you invite speakers we call white supremacists, you aren't worthy of receiving student government money funded by your own fees.
That's the crux of the argument by the Black Students' Organization at Columbia University against the College Republicans chapter, citing its invitation of Internet personality Mike Cernovich, author of the masculinity guide "Gorilla Mindset" and popularizer of the "Pizzagate" conspiracy theory, and Tommy Robinson, founder of the anti-Islam English Defence League.
The Columbia Daily Spectator reports that the BSO brought a proposal before the Student Governing Board to block the CRs from receiving future funding; the club received $4,640 last year:
"We do not support, in any capacity, giving a platform to beliefs that blatantly oppose our livelihood and humanity, and especially not in the name of intellectual diversity," BSO said in its proposal. The group also sought support from other student organizations, asking for participation in a "Columbia Coalition Against White Supremacy."
Cernovich is scheduled to speak tonight; Robinson's Skype-delivered speech earlier this month drew continuous disruptions, leading an administrator to promise disciplinary action against students who disrupted.
The BSO asked for a formal statement of support from the Columbia College Student Council at the latter's meeting Sunday night, even though it only controls the size of the pot for all student groups, not specific funding and recognition decisions:
CUCR Director of Operations Joseph Siegel, CC '19, argued that in attempting to bar certain speakers from campus, BSO was conflating intellectual ideas with "physical ideas of safety and violence," and in doing so allowing "a heckler's veto to whomever feels emotionally hurt by anyone." …

"If the word 'white supremacist' can be applied to a person, maybe don't invite them to our campus," Nicole Allicock, CC '18 and CCSC vice president of policy, said.
MORE: Shunned from campuses, Christian clubs struggle
Allicock went even further, suggesting that the CRs be required to provide a list of potential speakers to the Student Council so it can determine "which speakers are appropriate to bring to campus, taking into consideration the potential mental toll on students," the Spectator paraphrased.
An academic affairs representative, Dafne Murillo, said it wouldn't harm the CRs to be defunded or derecognized because the club could still rent spaces for events as an unrecognized group.
That's an expensive proposition. Two Christian student groups that refused to let non-Christians run for leadership positions were derecognized by the California State University system for a year.
They finally agreed "in writing" to let non-Christians run for leadership after paying steep rental fees for rooms on campus that they previously got for free, moving more events off-campus and watching their attendance plummet.
Given that it has no authority to defund or derecognize individual student groups, the Student Council instead voted in favor of submitting a "general concern report" to Student Conduct and Community Standards, which "thoroughly investigates and resolves incidents of academic, behavioral, and gender-based misconduct" at the Ivy League university.
Doesn't sound like that will chill the speech of the CRs, does it?
MORE: Christian groups return to CSU after agreeing to allow non-Christians in leadership
MORE: Free tampon program canceled by Columbia Student Council, too little interest
IMAGE: Frinkiac.com
Like The College Fix on Facebook / Follow us on Twitter