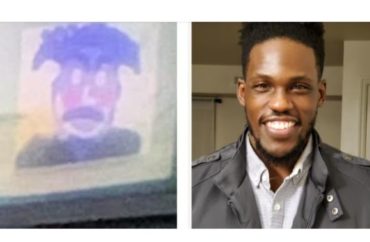 'Was that you going full Haitian,' professor allegedly asked student
A former marriage and family therapy graduate student will get paid $45,000 after a professor accidentally showed a cartoon drawing that the alumnus believed was offensive and targeted him.
Greg Noel's windfall is a result of a lawsuit that stems from conflicts he had with an unnamed professor at Utah State University. Noel acknowledged he had lost his temper during a technological problem. "Was that you going full Haitian," the professor allegedly asked Noel after he found out about the inability of the aspiring therapist to control his temper after the malfunction of a computer.
Noel later sued after the professor accidentally showed a "racist 'coon caricature'" (pictured) during class, which the student believed to be making fun of him, according to The Salt Lake Tribune.
The newspaper reported:
"With this case resolved, we'll continue to move forward in creating a culture of belonging at Utah State University," the school said, in part, in a statement Friday. USU does not admit fault in the case.

Noel's attorneys didn't respond to a request for comment from The Tribune.

When he initially filed his case in March, Noel had said: "Enough is enough. I felt betrayed by Utah State University. I felt completely betrayed."

The case marks at least the fourth major settlement for the northern Utah university since 2018. Combined, the public school in Logan has paid out nearly $1 million for those agreements, which are ultimately funded by taxpayers.
The settlement comes despite the fact the university Academic Freedom and Tenure Committee "voted to overturn the reprimand," against the professor.
Since then, the university has moved all grievances related to "equity" into the "equity office" for handling, the newspaper reported.
MORE: Minorities failed teacher test, get million dollar payments
IMAGE: The Salt Lake Tribune from Noel's lawsuit
Like The College Fix on Facebook / Follow us on Twitter