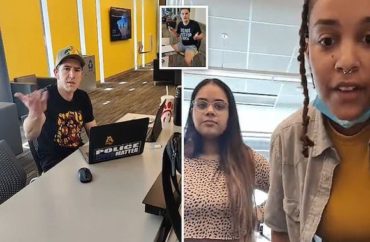 This past Thursday, a pair of black female Arizona State University students came upon two white male peers in the campus multicultural center … and promptly began berating them for the invasion of their "space."
The women, identified as Mostadi and Zara, took immediate offense to a laptop sticker one of the men had which says "Police Matter." The other male wore a shirt which reads "Didn't Vote for Joe Biden."
In video of the encounter, the men tell the female duo "We're just tryin' to school" and "It's just a sticker." Mostadi or Zara replies "But this is our space […] you're making this space uncomfortable."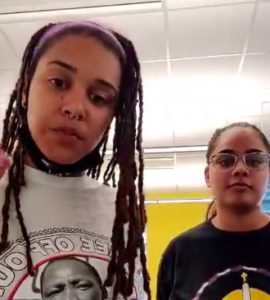 One girl continues: "You're white! Do you understand what a multicultural space– it means you're not being centered!"
In response to one of the men asking "White isn't a culture?" she tells him "No, it's not a culture! White is not a culture!" She yells: "This is the violence that ASU does and this is the type of people that they protect! This white man thinks he can take up our space … they think they can get away with this s**t!
MORE: ASU hires critical race scholar for music, dance & theatre school
More from The Post Millennial:
The [white] students refused to leave the common space to which another woman behind the camera says, "If you have any consideration for people of color and our marginalized lives…"

The videographer interrupts and said, "…the second floor, the first floor, the whole MU, every single part of the campus centers, you, this is the only space that you're not centered. And you're still trying to set yourself, which is peak white, cis male, bullsh*t."

She then continued the diatribe by stating, "You are racist, your stickers are racist because police, that's a job. You can choose to be a police… I don't choose to be black. Okay. No, you can choose to be a cop. You can choose to kill people with a badge and you're protecting that sh*t, which means that you're racist."

The student with the sticker attempted to diffuse the situation by apologizing and said, "I'm sorry, I wasn't trying to…" before being cut off by one of the girls behind the camera.

"I know, I know, but this offends us automatically because these people kill people like me and like us. Right. So, you're promoting our murders. So please just don't do that," the woman said. "Because do you understand that police lives matter was in response to Black Lives Matter?"
In response to the incident, the ASU Multicultural Solidarity Coalition said that it has been "trying to create a space for our community members to exist on campus without the ubiquitous threat of racial and gender-based violence," and that the recent scuffle was a direct result of school officials "not taking seriously" its "safety concerns."
The Students for Socialism condemned the "recent attack on BIPOC [Black, Indigenous, People of Color] committed by two racist white men," while the Young Democratic Socialists deplored the "white nationalist rhetoric" of "Police Matter" sticker which "infringed" on a multicultural space.
Stephanie Koebele, an ASU postdoctoral research scholar, posted on Twitter (since protected) that the two men "made the space unsafe & they knew it." She added ASU "needs to protect our multicultural community."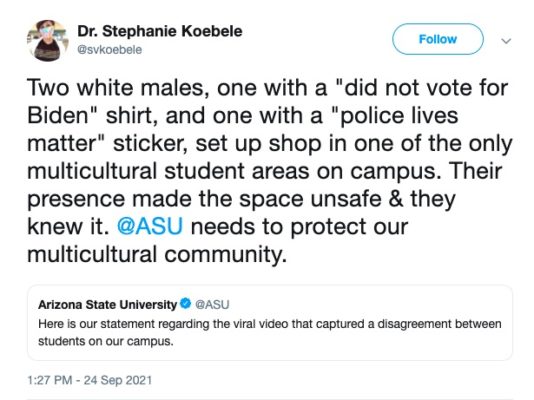 The ASU administration said in a statement that it "will be discussing [the incident] with all involved" and "expects respectful dialogue between students in all engagements."
Read the Post Millennial article.
MORE: ASU job applicants must show commitment to 'justice, diversity, inclusion, & equity'
IMAGES: Twitter screencaps
Like The College Fix on Facebook / Follow us on Twitter