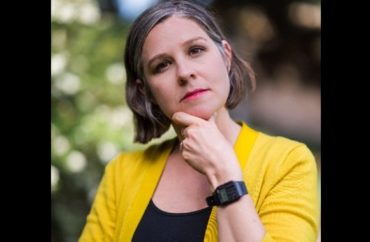 Idea came from 'decolonizing cinema' course
Oberlin College students recently organized a film fest with archived pornographic footage as part of a course on "decolonizing cinema."
Attendees at the event had a variety of viewing opportunities which "included a film created solely with the artist's mouth, a 1970s-era feminist film on menstruation, and a 16-minute-long recording of an intimate performance in which one artist shaves another's lower body," according to The Oberlin Review.
"The organization of this event started with a Winter Term project: Decolonizing Cinema History, taught by Visiting Assistant Professor of Cinema Studies and Mellon Postdoctoral Fellow Jennifer Blaylock," the student newspaper reported. Blaylock's (pictured) research interests include "postcolonial and decolonial theory," according to her college bio.
"The films screened at the event spanned a wide range of topics and forms, but were tied together by their focus on bodies and bodily fluids," the student paper reported.
"The medium of video holds a specific role in feminist history as a form of performance art; however, this history and artform seem to be missing from many artistic establishments at Oberlin," the student newspaper reported, based on its interview with Blaylock.
A lesbian filmmaker who made pornographic movies also had her film "Menses" featured.
The film from Barbara Hammer is a "wry comedy on the ironic aspects of menstruation where women act out their own dramas on a California hillside" and other locations, according to one description.
Another Hammer film, "Dyketactics," "depicts a group of nude women in an Edenic forest, their bodies intertwined in the midst of forming a community," according to an ARTnews profile of the deceased filmmaker. "Hammer often described the work as a depiction of lesbian sex from a lesbian point-of-view and positioned it as filmmaking about women devoid of the ever-present male gaze."
MORE: Black Oberlin student pens incredibly anti-white editorial
IMAGE: Jennifer Blaylock
Like The College Fix on Facebook / Follow us on Twitter