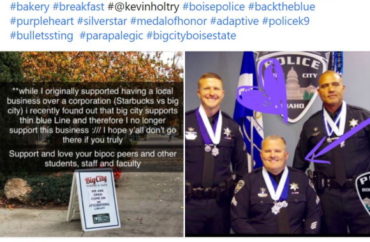 In response to outcries from some Boise State University students, coffee vendor Big City Coffee has opted out of its contract with the university and left campus just four months after its official opening as a new business at the school.
The move from Big City Coffee comes after the coffee shop received backlash from some students over its support of Thin Blue Line, an organization that supports police officers and is often seen as a counterpoint to the Black Lives Matter movement.
"Thin Blue Line USA was founded with the goal of supporting our brothers and sisters in blue. Our core mission is to provide quality products while making a difference in the law enforcement community," reads Thin Blue Line's mission statement in part, which does not mention BLM.
The owner of Big City Coffee, Sarah Fendley, supports the cause not for political reasons but rather personal ones. Her support of Thin Blue Line began in 2016 when her police officer partner was shot five times in an altercation with an escaped prisoner, causing the loss of his leg and binding him to a wheelchair.
A police K9 unit was killed trying to protect the officer. Fendley has displayed Thin Blue Line flags at her other coffee shop locations ever since, fervently defending the work of first responders.
"My brother is also a fireman and our younger brother is in the Air Force — service is in our blood and my decision to open on a college campus knowing full well some wouldn't be happy was outweighed by the opportunity to do something during these past few months," Fendley wrote on Facebook.
A group of Boise State students took issue with this, however.
"Members of BSU's Inclusive Excellence Student Council, a student government committee that aims to fulfill the needs of underrepresented groups on campus, expressed concerns that Fendley's support for law enforcement would send 'a poor message to black students' and 'silence students,'" the Idaho Press reports.
"Big City is very supportive of the Thin Blue Line which we know is not supportive of people of color," said Alyssa Wainaina at a September Inclusive Excellence Student Council meeting. "I believe that they should have never been brought to campus and if it can be reversed it should be."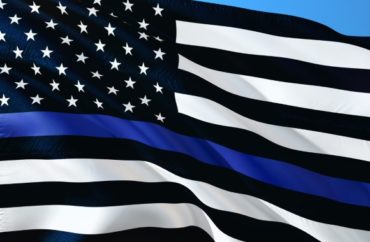 Fendley, in her Facebook post, stood up to the student activists and defended her stance:
"…if you want to know why I support first responders ask me … I'll tell you and if your lucky you might get to meet my hero. He has extensive nerve damage and debilitating pain but he manages to smile through most of it and I love him. He never hesitated that day and he would do it again. We are lucky to have such great police, fire and EMS in our community. I support them because they support us."
But Fendley's post sparked even more outrage from students, prompting Associated Students of Boise State University Vice President Cambree Kanala to email university President Marlene Tromp on the issue.
"This post is extremely harmful, using a students personal social media post to diminish and devalue student voice, in order to boast their brand and their contract with Boise State. Not only is this post harmful to students, especially our BIPOC students, it is extremely inappropriate and disparaging. Fee paying students should not be at the liberty for a social media smear by a company contracted with the University," read Kanala's email, according to an article by the BSU student newspaper The Arbiter.
ASBSU members have voiced their distaste for the coffee shop as far back as September, as previous meeting minutes show.
In a statement from Boise State University spokesperson Sherry Squires to The College Fix, Squires explained the circumstances behind Big City Coffee's decision to ultimately leave the BSU campus.
"As a popular local vendor in the community, Big City Coffee was invited onto our campus. The business opened this fall. Our students hold a wide range of opinions about this business. After some students began speaking out against the owner's personal beliefs, we explained that we could not violate the First Amendment Rights of anyone on campus. Following that, the owner requested to be let out of the contract. We agreed to the owner's request."
"At no time did the administration at Boise State ask Big City Coffee to leave campus," the statement continues. "At no time did the administration ask Big City Coffee to compromise the owner's First Amendment rights."
"Boise State was working with the owner to help find a successful resolution to the concerns regarding free speech on campus. Big City Coffee's recent actions signal that the business has chosen to leave. Our campus is a place for all people to peacefully and freely express their views. A commitment to free speech is not unique to Boise State University; protecting speech is required by the First Amendment and is a core value of our institution."
Leaving campus has cost Fendley over $10,000 in lost equipment for the campus location, according to the Idaho Freedom Foundation. More than 20 student employees are also without work due to Big City Coffee's closure.
According to the Idaho Press, Holtry had "attended multiple meetings with university officials … [and] said the Big City Coffee owner asked the administrators to issue a statement backing the coffee shop in light of student protests, to which there was no reply from the administrators. That's when Fendley decided to end her university contract."
Comments on a Facebook post regarding the incident show that the public is disillusioned with the outcome.
"What abject liars you are BSU. You caved to a bunch of ignorant, racist BLM supporters who consistently demonstrate their abject hypocrisy on a daily basis. And you Woke companies/organizations/universities fall for it every time because you are scared to death of them! What a joke you all are," commented one user.
Another simply added: "Not proud to be a graduate of BSU:/."
MORE: University yanks thin blue line pro-police mask after multicultural complaint
MORE: Ethnic students protest 'Thin Blue Line' flag pictured with slain police officer
IMAGE: Facebook screenshot
Like The College Fix on Facebook / Follow us on Twitter