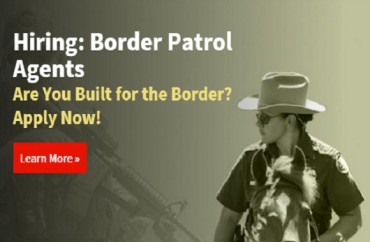 Shortly after The College Fix reported Tuesday morning on a petition circulating among University of California students that called for UC Irvine officials to remove a U.S. Customs and Border Protection booth from the school's upcoming fall career fair, saying officers' presence will make the campus unsafe for students in the country illegally, a campus spokeswoman told to The Fix the agency has now backed out of the event.
"As of this morning, U.S. Customs & Border Patrol has decided not to attend the campus Career Fair on Thursday, Oct. 22," Cathy Lawhon, senior director of media relations at UC Irvine, said in an email. "However, the agency will continue to utilize UCI's Career Center on-line job postings system to list available positions for those students interested in working with CBP."
Asked what role the petition had with the agency's decision, Lawhon responded that "the recruiters felt that the opposition to their attendance could be a distraction from their recruitment efforts and they could be more successful utilizing the on-line job postings."
The Change.org petition, signed by 645-plus students as of Tuesday morning, stated that "having Border Patrol agents on campus is a blatant disregard to undocumented students' safety and well-being."
It added the agency's presence on campus would be offensive to "mixed-status families" and also alleged transgressions of the U.S. Customs and Border Protection, including "unjust killings" as well as "racial profiling, use of force, and unjust violence."
RELATED: Students demand Border Patrol booted from campus career fair, call officers unsafe and offensive
According to the petition, campus officials had first stood their ground when the complaints surfaced, telling petitioners that UC Irvine students are "young, mature adults capable of handling [their] own mental and physical well-being."
What's more, not all students agreed with the petition.
"I feel that these efforts are an attempt to politicize a jobs fair that is supposed to help college students find much needed work once they graduate," UC Irvine's College Republicans President Rob Petrosyan said in an email to The College Fix. "Just because some disagree with what they do does not mean they can call for its removal."
"If you don't approve of U.S. Customs, don't apply to work for them, it's that simple," he added. "As for concerns over safety, it's not like the recruiters will actively be seeking to deport students."
Lawhon, in her email to The Fix, said that "UCI is committed to bringing a full spectrum of employers to campus to meet with our student population."
"The Career Fair features 90 different corporations and agencies, giving all students a wide variety of employment options to explore. It's up to individual students to determine which employers may or may not align with their diverse talents, values and interests," she said.
College Fix reporter Jacob Kohlhepp contributed to this report.
Like The College Fix on Facebook / Follow us on Twitter