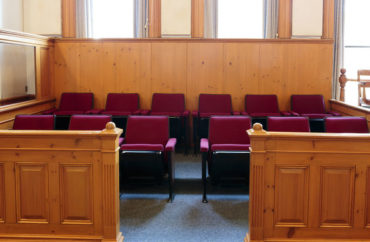 First breach-of-contract case stemming from Obama guidance to go to trial
Boston College didn't trust its chances before a jury in an accused student's due process lawsuit against the school.
It wanted a bench trial where the judge would issue a verdict – and it wanted to give "John Doe" its own new disciplinary trial on sexual-misconduct charges.
But Doe prevailed, with U.S. District Judge Denise Casper ruling Friday that a jury will consider his breach-of-contract and "basic fairness" claims against the college, school newspaper The Heights reports.
Casper's ruling came in response to a 1st U.S. Circuit Court of Appeals decision that sent the case, which was originally dismissed, back to trial court.
The appellate judges had found fault with the Title IX proceeding because a senior official discouraged the adjudicators from reaching a "no finding" determination, while another senior official told adjudicators to give special treatment to a "prime alternative culprit" in the case.
The college had argued before Casper that a jury need not consider the issues because the 1st Circuit had only found problems with its first proceeding against Doe, now six years old, for which Doe's only relief would be an order vacating the finding against him. At that point, he'd get a new Title IX proceeding, not monetary damages.
MORE: BC wants to avoid jury trial for dean telling adjudicators how to rule
Casper said none of the cases the college cited is applicable, however. The parties must submit a proposed trial date by Friday, according to The Heights:
The trial is tentatively scheduled for the first quarter of 2019. It is the first breach of contract lawsuit to go to jury trial after the "Dear Colleague" letter was issued in 2011 by the Obama administration that redefined Title IX guidelines.

It is the second due process lawsuit to go to a jury trial: In 2011—eight months after the Obama letter was issued—the University of the South went to trial with a plaintiff identified only as "John Doe." Doe won $26,500 of a requested $5.5 million on a fairness of process argument. The circumstances surrounding that process were much different from the circumstances surrounding the BC case.

Charles Wayne, one of the lawyers who argued on behalf of the plaintiff against the University of the South, is arguing the case on behalf of the plaintiff in the lawsuit against BC.
MORE: 1st Circuit slaps down Boston College
MORE: Due process means 'sticking up for penises everywhere'?
IMAGE: ggw/Shutterstock
Like The College Fix on Facebook / Follow us on Twitter