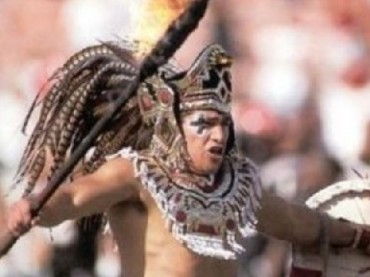 San Diego State University will keep the Aztec name, but its officials have promised to soften its mascot warrior into some sort of passive "Spirit Leader."
The decision comes after an Aztec Identity Task Force was established in February to study whether the public university's longtime warrior symbol was disrespectful or racist, as some students and professors have alleged.
"The Aztec Warrior, similarly a source of pride for the collective majority, will be retained, but as Spirit Leader, not mascot," interim SDSU President Sally Roush announced. "There will be immediate and visible changes in demeanor to achieve a respectful portrayal of a powerful figure from Aztec culture."
Roush told the San Diego Union-Tribune on Thursday that "we just expect a much more dignified and appropriate demeanor from that person. You won't see the Aztec Warrior doing pushups in the endzone. You won't see the Aztec Warrior dancing with the cheerleaders."
At least he can keep his spear, for now, "but there will be an additional assessment on whether to add other meaningful symbols," the Daily Aztec reports.
The decision came in the face of overwhelming support for the Aztec warrior mascot.
"[M]ore than 200,000 survey forms were sent to alumni, faculty and staff, students and the community, asking whether Aztec should be used as a nickname and as the name of the school mascot. Nearly 13,000 people replied. Among them, nearly nine in 10 supported keeping the nickname and nearly 8 in 10 endorsed a human Aztec Warrior mascot," the Union Tribune reports.
The San Diego State College Republicans in a statement chided the decision as a politically correct one that aims to appease the squeaky wheels who do not represent most campus stakeholders' sentiments.
MORE: SDSU profs OK resolution to abolish Aztec mascot — despite popularity
MORE: Native American group wants SDSU's 'Aztec' mascot eliminated
MORE: Students say Aztec mascot offensive, demand its decommission
Like The College Fix on Facebook / Follow us on Twitter