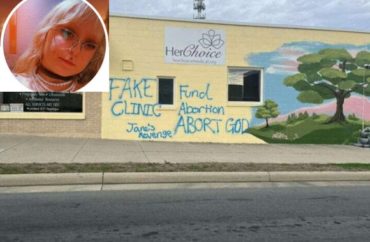 Students for Life of America said the student had a history of harassing its group
The Department of Justice recently charged a Bowling Green State University student and pro-abortion activist with vandalism of a local pregnancy resource center.
The U.S. Attorney's Office for the Northern District of Ohio filed a "federal misdemeanor charge under the Freedom of Access to Clinic Entrances (FACE) Ac" against Whitney Durant who also goes by the name Soren Monroe.
"According to the information, on April 15, 2023, Durant intentionally damaged the property of HerChoice, a pregnancy care center located in Bowling Green, Ohio, by defacing the clinic's building with spray paint because the clinic provides reproductive health services," the DOJ announced.
She has since pleaded not guilty. Durant's Facebook page states that she is "a communist trying to spread the gay agenda."
The accused student (pictured) allegedly had a history of harassing the Bowling Green State pro-life group, according to Students for Life of America.
Several weeks prior, the president of the pro-life campus club wrote that Durant "began to disrupt [ a tabling event] by yelling at the top of her voice."
"She screamed, 'You are promoting violence against women! Violence,'" Morgan Reece wrote. "When we asked her for a civil conversation with us, she shouted, 'No, you dumb f*ck!' She refused to answer why she was so upset and told us she didn't want to speak with us before walking away."
Reece wrote further:
An hour later, the girl — our SFLA group later learned named Soren — came back and screamed, "You are promoting violence by forcing people to stay pregnant!" We explained that we offer free resources to pregnant and parenting students and believe they deserve love and support. At this point she was slamming her fists on the table, yelling, "There is nothing loving about forcing people to give birth against their will!"
Durant "is the president/founder of a group called Bowling Green Student Rights Union (BGSRU) and often joins forces with the Bowling Green Socialists," according to Reece.
The pro-life pregnancy center thanked law enforcement for its work.
"We are grateful to local and federal law enforcement for diligently working our vandalism case which has led to federal charges being filed," the group told the media.
"HerChoice has been and will continue to be a place where women can turn to know their options and to know that they are not alone when facing a pregnancy decision."
MORE: 'Anarchist extremists' planned riot outside Knowles event
IMAGES: HerChoice; Whitney Durant/Facebook
Like The College Fix on Facebook / Follow us on Twitter