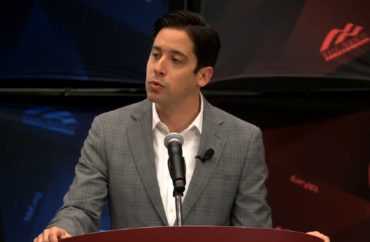 Michael Knowles warns that conservatives are at risk of being attacked
"Anarchist extremists" were behind the violent rioting outside of Michael Knowles' event at the University of Pittsburgh according to a search warrant application.
The application, first posted by Andy Ngo, provides further information on the criminal allegations against a married couple who face federal charges for setting off smoke bombs outside of the April event that featured Knowles, a conservative commentator with the Daily Wire and Brad Polumbo, a libertarian. The two were debating transgenderism.
The Department of Justice first announced its indictment of "Brian DiPippa, age 36, and his wife, Krystal DiPippa, age 40," for "conspiracy and obstruction of law enforcement during civil disorder," on June 30, as previously reported by The College Fix.
The Fix previously reported on the "incendiary device" thrown during violent protests against the event, which also included a picture of Knowles burned in effigy.
Update: Photos of Brian & Krystal DiPippa have been found. These two have a long history of far-left extremism & were federally indicted last week over #Antifa explosive attacks on a @michaeljknowles event in Pittsburgh.

The criminal complaint says the suspects are part of an… https://t.co/tMY1sN5rei pic.twitter.com/PCogfODNnZ

— Andy Ngô 🏳️‍🌈 (@MrAndyNgo) July 9, 2023
Brian DiPippa found himself on the DOJ radar after they were tipped off that a "group of anarchist extremists planned to engage in acts of violence in an effort to disrupt [the debate]."
The warrant application stated:
Complainant advised that this group of anarchist extremists meet Thursday evenings at the Big Idea Bookstore at 4812 Liberty Avenue, Pittsburgh, PA 15224. During one of these meetings, an individual referred to as "Des" stated the speaker event "was not going to happen" and subsequently passed out "zines," or small printed booklets, to meeting participants which provided instruction on how to make incendiary devices for arson and Molotov cocktails.
In May, DiPippa was flagged at an airport for having "RDX" on his luggage, though he was allowed to fly. The compound is a "high explosive" according to the DOJ.
Wow. First I'm seeing the criminal complaint and timeline. I haven't spoken much of this because threats and even physical attacks unfortunately come with the territory for conservatives in public life. But this was far more dangerous and coordinated than I previously knew. https://t.co/gi9Ypm2WJw

— Michael Knowles (@michaeljknowles) July 9, 2023
Knowles commented that threats and physical attacks "unfortunately come with the territory for conservatives in public life. But this was far more dangerous and coordinated than I previously knew."
He commented further today on his show and thanked law enforcement for working to subdue the suspects.
"This could happen to you," Knowles told his audience and encouraged them to read the audience. "I didn't realize how serious this was," he said and warned them that conservatives could be "subject to serious violence."
"They want to kill you," Knowles said.
MORE: Clemson pro-lifers receive violent threats
IMAGE: YAF/YouTube
Like The College Fix on Facebook / Follow us on Twitter