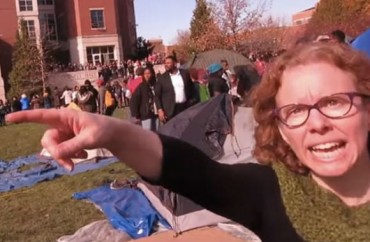 University of Missouri Communication Prof. Melissa Click was fired Thursday not because of anything she believed, but because she decided to "interfere with the rights of others" in her activism on behalf of black students.
That's how the Board of Curators explained its 4-2 vote to terminate Click in a statement provided to the Columbia Daily Tribune.
Chair Pam Henrickson voted against the termination but wrote in the statement for the board that Click had no right "to confront members of law enforcement or to encourage potential physical intimidation against a student":
The statement from Henrickson cited Click's behavior at the Homecoming parade, when she cursed at a police officer who was moving protesters out of the street, and on Nov. 9 at Concerned Student 1950's protest site on the Carnahan Quadrangle. Her actions at the protest site, Henrickson said, "when she interfered with members of the media and students who were exercising their rights in a public space and called for intimidation against one of our students, we believe demands serious action."

[That apparently refers to Click's call for "muscle" against student Mark Schierbecker, who has since become a contributor to The College Fix.]
The investigators hired by the curators reviewed videos, documents and conducted more than 20 interviews, Henrickson said.
Click can still appeal her termination. She's called herself an academic martyr who can't get fair treatment because Chancellor Hank Foley said she had a "pattern of misconduct."
Like The College Fix on Facebook / Follow us on Twitter
IMAGE: Mark Schierbecker/YouTube