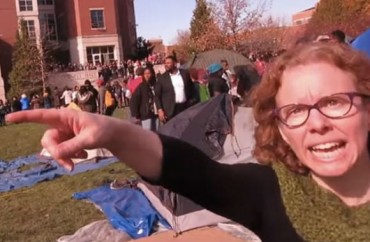 The University of Missouri professor made famous by her plea for some "muscle" to remove a student journalist from a campus protest has been suspended with pay.
The Columbia Daily Tribune reports that the Board of Curators approved the investigation of Melissa Click after its closed-session meeting Wednesday night, so that it "may determine whether additional discipline is appropriate," in the words of Chairwoman Pam Henrickson.
Click was charged with assault just days earlier following a police complaint by Mizzou student videographer Mark Schierbecker, whose video of Click attacking him and student photojournalist Tim Tai went viral.