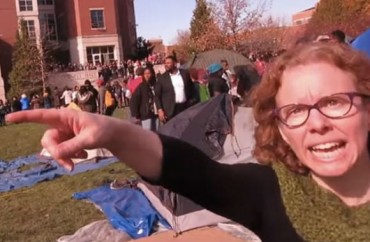 Melissa Click's employment at the University of Missouri is an even bigger political football now that the "I need some muscle" activist has been targeted by more than 60 percent of the Missouri Legislature.
According to a press release by Rep. Caleb Jones and Sen. Kurt Schaefer, both Republicans, more than 100 House Republicans and 18 Senate members signed a letter to the MU board of curators demanding the "immediate firing" of Click, a communications professor.
Click became infamous for threatening physical violence against Tim Tai, a student photojournalist on assignment for ESPN, when he tried to cover a "small tent city" created by Mizzou protesters. She lost her courtesy appointment in Mizzou's famed journalism school and was accused of assault and Title IX  violations, but remains a professor.
The professor's "comments served to inflame an already caustic situation that was clearly out of line," according to the identical House and Senate letters, attached to the press release. As faculty in communications and journalism, "she displayed such a complete disregard for the First Amendment rights of reporters [that it] should be enough to question her competency and aptitude for her job":
It should be evident that these actions are inappropriate, illegal, and unacceptable for a faculty member of the University of Missouri.
The lawmakers also brought up Click's "research" (their quotes) on 50 Shades of Grey, Lady Gaga and Twilight, and noted she was on a research waiver from Mizzou so that she didn't have to teach classes.
(Sen. Schaefer, chair of the appropriations committee, got Mizzou to release stats on waivers that showed more than half of tenured faculty – outside of exempt programs like music and medicine – got them.)
According to the letters, Click has only applied for tenure, but doesn't yet have it.
Like The College Fix on Facebook / Follow us on Twitter
IMAGE: Mark Schierbecker/YouTube