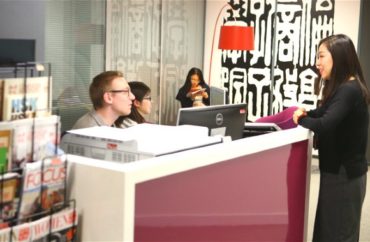 'The data indicates that British universities are operating Confucius Institutes illegally,' watchdog stated
Thirty branches of Chinese Communist Party-run Confucius Institutes remain open in the United Kingdom thanks to a reversal from Prime Minister Rishi Sunak.
Government funding for Mandarin teaching at branches will end, but they will not be closed, The Guardian reported April 24.
Meanwhile, "research shows that a secretive visa scheme has been used to fast-track Chinese government-vetted staff to come to the UK to promote Chinese Communist party (CCP) values at the institutes," according to the left-leaning British paper.
"When he unsuccessfully fought Liz Truss for the Tory leadership in July last year, Rishi Sunak promised to shut the Confucius Institutes down," according to The Telegraph.
Sunak replaced Truss in October and reiterated the promise that was not fulfilled.
"No country other than China has such direct power on campus – with what amounts to state-backed propaganda missions among students, run according to Chinese rules rather than those of their British hosts," according to The Telegraph.
"The data indicates that British universities are operating Confucius Institutes illegally and enabling transnational repression in the UK," according to the first project of UK-China Transparency, a British charity registered in February.
Its first project, titled "Are Confucius Institutes legal?" comprises "the publication and analysis of a range of primary source data about British universities' Confucius Institutes," according to the charity's website.
The project's report details the rules, regulations and ideology restrictions for institute workers that violate British law, showing that the CCP controls Confucius Institutes.
They are "China's overseas ideological police force" whose purpose is to keep an eye on Chinese university students, ensuring they are loyal to the CCPP, according to the report.
Criteria include agreeing to "undermine and silence attempts to criticise academic partnerships with China" and to "enforce party discipline whilst abroad," the report states.
British universities hosting a Confucius Institute include University College London, Manchester University, and London School of Economics, among several dozen others, the charity reports.
"The Confucius Institute for Business London (CIBL) is a non-profit educational partnership between LSE and Tsinghua University," according to its website. "It was launched in 2006 with five sponsoring companies: HSBC, BP, Deloitte, Swire and Standard Chartered."
The College Fix contacted Andrew Gillen, a senior policy analyst specializing in higher education from the Texas Public Policy Foundation, and Ian Oxnevad, a program research associate from the National Association of Scholars, to ask about the risks that Confucius Institutes pose to British higher education.
Both contacts referred to several reports on Confucius Institutes published by the NAS.
In "Outsourced to China," NAS author Rachelle Peterson describes how Confucius Institutes present threats on four fronts, including restrictions on intellectual freedom, transparency issues, foreign entanglement, and "soft power," by presenting China in a biased, positive light. The paper recommends that all universities close their Confucius Institutes and state and federal bodies "exercise oversight."
The report "After Confucius Institutes" by Flora Yan gives in-depth background information on Confucius Institutes and describes the process of what happens when they close. Once again, the report recommends preventative measures on a national level.
MORE: China finds new ways to infiltrate American universities as Confucius Institutes close: report
IMAGE: Confucius Institute for Business London
Like The College Fix on Facebook / Follow us on Twitter