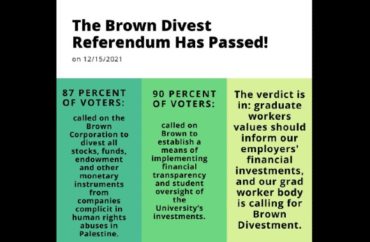 87 percent voted in favor
The Graduate Labor Organization at Brown University has voted in favor of divestment from Israel.
"87 percent of GLO voters called on the Brown Corporation to divest all stocks, funds, endowment and other monetary instruments from companies complicit in human rights abuses in Palestine," the graduate student group in a Facebook post on December 21.
The divestment is symbolic and will have no immediate effect on the investments of the Ivy League University. The graduate student group did not provide a link to the divestment resolution.
Companies targeted by the resolution include Raytheon, Motorola, General Electric and Boeing.
The Ivy League university's Hillel rabbi criticized the vote.
"Brown RISD Hillel is on the record against BDS [Boycott, Divestment and Sanctions] in all its forms," Rabbi Joshua Bolton told The Algemeiner.
"We are forging a strong, diverse, and vital Jewish community on College Hill, one that enables students to grow in relation to the breadth of Jewish history, identity, and meaning — where students learn with and from one another, across commonality as well as difference," Rabbi Bolton said.
Brown President Christina Paxson has previously criticized BDS after a 2019 student referendum on divestment from Israel.
"If the University starts taking political positions, we run the risk of undermining academic freedom on the campus," President Paxson said. "If we say we're the university that opposes Israel, how can we have scholarship and debate on what's happening in the Middle East? … So, we shouldn't, in most cases, take political positions."
"We want members of our community to do the research and do the thinking to become really informed citizens, so they develop their own convictions and act accordingly," Paxson said.
MORE: Chinese divestment under consideration at Catholic University of America
IMAGE: Brown Glo/Facebook
Like The College Fix on Facebook / Follow us on Twitter