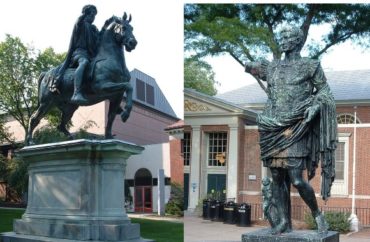 UPDATED
Caesar Augustus represents 'icon of colonial and imperial domination'
A Brown University student group, Decolonization at Brown, wants the school to remove two Roman statues displayed on campus, claiming the statues represent white supremacy and colonialism.
The student group at the Ivy League university in Rhode Island has lobbied the school's Undergraduate Council of Students to support its initiative to remove of statues of Roman Emperors Caesar Augustus and Marcus Aurelius.
Removing the statues "is one step in a broader project of decolonization by confronting Brown's institutional and ideological legacies of colonialism and white supremacy," members of the group wrote in The Blognonian, a student publication at the university.
The Undergraduate Council is scheduled to vote on endorsing the initiative on Thursday after it bumped the vote, originally scheduled for October 22.
Jason Carroll, the student body president, would not comment on the proposal yet because the body has yet to hold a vote.
"There is not a resolution and the potential endorsement would be for an on-going student initiative run by Decolonization at Brown," Carroll said via email to The College Fix.
"It is not that difficult to see how a statue of (Caesar Augustus) would serve as an icon of colonial and imperial domination," Kelley Tackett, a leader of the decolonization group, said at an October 14 Undergraduate Council meeting.
MORE: Professor instructs protesters on how to topple statues
"They function not as monuments to ancient Rome, but to a set of values and political stances which existed when they were commissioned on Brown's campus," Tackett said, according to student paper The Brown Daily Herald.
The Caesar Augustus statue has been on campus since 1906 and the Marcus Aurelius statue has been on campus since 1908, according to a university website.
Sam Kimball, another student leader, asked "what kind of impact" the statues have on "student well-being and inclusion of students of color," according to the Daily Herald.
Junaid Malik, a leader in the effort, said, according to the student paper:
For those of us who come from countries that were also colonized, these statues carry the symbolism of conquest, one that we think is incompatible with the continued occupation of Indigenous land in the U.S.
Decolonization at Brown did not respond to multiple emailed requests nor a Facebook message seeking comment on the proposal and what the next steps would be in accomplishing its goal.
Brian Clark, a university spokesperson, said they have yet to receive language on the initiative in an email to The Fix. Clark provided no further comment.
At least one student finds the proposal problematic.
Nidhi Bhaskar, a student, said that Brown should not approve of "the removal of perspectives, art or legacies pertaining to darker aspects of university history," citing the institution being founded on intellectual dialogue and the unrestricted exchange of ideas.
Bhaskar argued in an op-ed in the Daily Herald that catering to "dominant ideals" would come at the cost of academic discourse.
"Retaining opportunities for students to differ in opinions regarding artistic installments, publication and university policies are critical to maintaining a university-level commitment to academic conversation," Bhaskar wrote.
"Art must be judged on quality and impact," Bhaskar said.
"Any resultant discomfort from scrutinizing art is necessary for facilitating discourse and unveiling the complex ramifications intrinsic to most pieces of material culture," Bhaskar said.
She added:
Removing or refusing to restore certain historical statues on Brown's campus, purely based on the grounds that these artifacts reflect outdated ideals and are potentially problematic to the current viewpoints promoted by the University, is tantamount to censorship. These actions belie students' opportunity to engage with the lasting influences of the past upon current scholarship and from confronting both the constructive and unsavoury realities of the university's history.
Editor's note: The original article incorrectly used "he" for Nidhi Bhaskar. Bhaskar is a female student.
MORE: Washburn University removes statues of Thomas Jefferson, Ben Franklin
IMAGES: Apavlo/Wikimedia Commons
Like The College Fix on Facebook / Follow us on Twitter