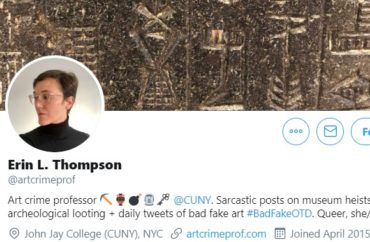 Using a chain could get unskilled protesters killed
According to the American Association of University Professors, academics should transcend "the division between scholarship and activism that encumbers traditional university life."
A professor of "art crime" at the City University of New York's John Jay College has heeded the call by sharing her expertise on "the deliberate destruction of cultural heritage."
Responding to the planned toppling of a Christopher Columbus statue at the Minnesota State Capitol, Erin Thompson advised in a tweet thread last night that chain is better than rope for "faster" removal of installations.
Just to make clear that she was specifically addressing those who vandalize and destroy public property, Thompson referred back to another taxpayer-funded archaeologist, the University of Alabama-Birmingham's Sarah Parcak, who had previously given even more detailed instructions for toppling a "racist monument" – an obelisk in Montgomery, Alabama.
For a breakdown of how to mismantal racist statues I MEAN move an obelisk from my fellow archeologist, @indyfromspace, check out: https://t.co/W1OlQY0JUG https://t.co/6wdEvxnN05

— Erin L. Thompson (@artcrimeprof) June 11, 2020
MORE: Parcak offers detailed instructions for toppling obelisks amid riots
Thompson's stunt drew a rebuke from mathematician and author James Lindsay, part of the trio whose "grievance studies" project got several fake academic papers accepted or published by prominent academic journals.
"I almost never say this, but you should be ashamed of yourself. Very ashamed of yourself," he tweeted back. Emory University English Prof. Mark Bauerlein also dryly noted: "Another professor joking about how to take down monuments."
Another Twitter user in Lindsay's thread claimed that Thompson was actively endangering protesters with her advice: "Chains snap and kill/injure people all the time. Unless you know how to calculate the max load on the chain, and few do, never use a chain."
I almost never say this, but you should be ashamed of yourself. Very ashamed of yourself. pic.twitter.com/Vtfe2ugqTS

— James Lindsay, anti-revolutionary (@ConceptualJames) June 11, 2020
Thompson subsequently made a taxpayer argument for removing statues permanently rather than relocating them, referring to the University of North Carolina's $2.5 million plan (since invalidated by a court) to get rid of a monument to students who fought in the Confederacy, known as Silent Sam.
I've seen many proposals that monuments should be placed in museums instead of torn down, but who will pay for it? Preservation is expensive.

— Erin L. Thompson (@artcrimeprof) June 11, 2020
MORE: UNC's short-lived $2.5 million agreement to ban Silent Sam
IMAGE: Erin L. Thompson/Twitter
Like The College Fix on Facebook / Follow us on Twitter