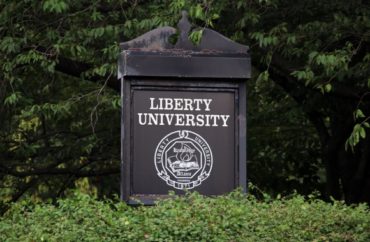 'I'm not going to leave unless I need to'
Students at Liberty University in Lynchburg, Virginia, are returning to the school's campus after spring break, bucking a national trend of countless universities that have shut their campuses down for fear of the coronavirus pandemic.
The Lynchburg News & Advance reports that campus officials "are preparing to welcome back up to 5,000 students from spring break this week." The school's president, Jerry Falwell, Jr., "has invited students to return to residence halls and has directed faculty members to continue to report to campus even as most classes move online."
The vast majority of on-campus students will attend online courses like their classmates who do not return. "Hundreds of professors and instructors," meanwhile, are expected to return to the campus to hold office hours.
From the report:
"I think we have a responsibility to our students — who paid to be here, who want to be here, who love it here — to give them the ability to be with their friends, to continue their studies, enjoy the room and board they've already paid for and to not interrupt their college life," Falwell said.

Falwell's decision leaves Liberty as an outlier among the scores of colleges and universities across the country that have shut down to help limit the spread of the disease known as COVID-19.

The threat of the coronavirus became more immediate for the region this weekend when the Virginia Department of Health announced cases in Amherst and Bedford counties. Statewide, as of Monday evening, more than 250 people have contracted the disease and seven have died.

In response to the pandemic, several nearby institutions have instructed faculty to work remotely and have limited dorms to students unable to return home. At the University of Lynchburg, 19 students continue to live in dorms while at Randolph College just five remain on campus.
In contrast with other schools, Liberty's dorms, academic buildings, library and fitness center remain open.
The university is following certain state-mandated protocols in order to prevent an outbreak on campus, The News reports: "Gatherings in campus buildings, including a handful of classes still holding in-person meetings, are capped at 10 people in accordance with an order by Gov. Ralph Northam," while "dining halls are only providing take-out service, and campus visits have been suspended."
Remarking on his return to campus, one student told the newspaper: "I'm not going to leave unless I need to."
MORE: Public health profs say COVID-19 crackdown could be more harmful virus itself
IMAGE: Katherine Welles / Shutterstock.com
Like The College Fix on Facebook / Follow us on Twitter