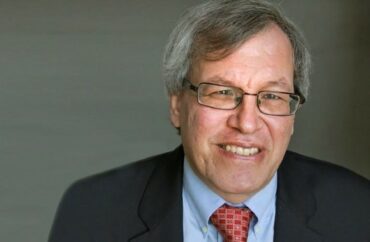 A 70-year-old Jewish dean at Berkeley Law School wrote he has "never in his life" encountered the antisemitism on display in the weeks since the Hamas attacks.
"I have heard antisemitic things from time to time through my life," Dean Erwin Chemerinsky of the UC Berkeley School of Law wrote in a Sunday op-ed in the Los Angeles Times. "But none of this prepared me for the last few weeks."
Chemerinsky (pictured) wrote he has recently been the subject of antisemitic remarks, including an Instagram post by someone in his school with the caption, "Erwin Chemerinsky has taken an indefinite sabbatical from Berkeley Law to join the I.D.F."
He said he was "stunned" when students across the country, including his own, celebrated Hamas attacks in the wake of the Oct. 7 invasion.
"How can anyone celebrate the killing of 260 people attending a music festival, or the brutal massacre of more than 100 people in a kibbutz, or the pulling of people from their houses to take as hostages?" he wrote. "If this happened to people who were not Jews would there be such celebrations?"
"Of course, criticism of the Israeli government is not antisemitism, any more than criticizing the policies of the United States government is anti-American," he wrote. "But if you listen to what is being said on college campuses now, some of the loudest voices are not advocating for a change in Israeli policies, but are calling for an end to Israel."
Chemerinksy asked his fellow campus administrators to condemn "the celebrations of Hamas and the blatant antisemitism that is being voiced":
There has been enough silence and enough tolerance of antisemitism on college campuses. I call on my fellow university administrators to speak out and denounce the celebrations of Hamas.

Students have the right to say very offensive and even hateful things, but school administrators — deans, presidents and chancellors — have free speech rights too. They must exercise them and take a stand even if it will offend some and subject them to criticism.

It is a very difficult time on campuses across the country. Many of our students and faculty members have family and friends in Israel or in Gaza. Many care deeply about the suffering we are seeing, and yet there is no bridge between those who seek the elimination of Israel and those who believe it is essential to have a Jewish state. I hope there will be a time when campus officials can find ways to bring their communities together. But it is not realistic now. This makes it all the more important that they show moral leadership and speak out against the antisemitism that is rampant now, as they would condemn all other forms of racism and hate on campus.
MORE: Fifty-one percent of young people side with Hamas in conflict: poll
IMAGE: Berkeley Law
Like The College Fix on Facebook / Follow us on Twitter