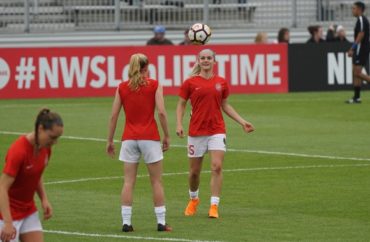 A recent executive order from President Joe Biden will end women's sports, author Abigail Shrier warns in a Wall Street Journal commentary piece. Shrier is the author of "Irreversible Damage: The Transgender Craze Seducing Our Daughters."
"On day one, Mr. Biden placed all girls' sports and women's safe spaces in the crosshairs of the administrative state," the Journal writer said.
"Any school that receives federal funding—including nearly every public high school—must either allow biological boys who self-identify as girls onto girls' sports teams or face administrative action from the Education Department," Shrier said.
Linda Blade, an Olympic track and field coach, told Shrier that female sports are "finished" and "done."
"The leadership skills, all the benefits society gets from letting girls have their protected category so that competition can be fair, all the advances of women's rights—that's going to be diminished," Blade said, according to Shrier.
On day 1, Biden unilaterally eviscerates women's sports. Any educational institution that receives federal funding must admit biologically-male athletes to women's teams, women's scholarships, etc.

A new glass ceiling was just placed over girls.https://t.co/cGWZqDpxl8

— Abigail Shrier (@AbigailShrier) January 21, 2021
Shrier said that even puberty blockers won't level the playing field.
She explained:
I say rigged because in contests of strength and speed, the athletic chasm between the sexes, which opens at puberty, is both permanent and unbridgeable. Once male puberty is complete, testosterone suppression doesn't undo the biological advantages men possess: larger hearts, lungs and bones, greater bone density, more-oxygenated blood, more fast-twitch muscle fiber and vastly greater muscle mass.
She gives the example of how "two trans-identified biological males permitted to compete in Connecticut state track finals against girls—neither of whom was a top sprinter as a boy—consistently claimed top spots competing as girls."
The male athletes "eliminated girls from advancement to regional championships," and also ended "scouting and scholarship opportunities and trophies, and they set records no girl may ever equal."
Biological differences mean that hundreds of high school male athletes could defeat the best female Olympic runners.
Shrier explained:
How big is this performance gap? To take one example cited by the Connecticut female runners in their complaint against the Connecticut Interscholastic Athletic Conference, the fastest female sprinter in the world is American runner Allyson Felix, a woman with more gold medals than Usain Bolt. Her lifetime best for the 400-meter run is 49.26 seconds. Based on 2018 data, nearly 300 high-school boys in the U.S. alone could beat it.
IMAGE: Jeffrey Lin/Unsplash
Like The College Fix on Facebook / Follow us on Twitter