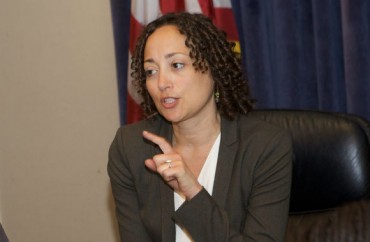 President Joe Biden's nomination of Catherine Lhamon (right)to head the Department of Education's Office of Civil Rights has troubled due process advocates and an attorney who represents accused students.
Lhamon previously held the position under the Obama administration — it's here where she "pressured universities to ignore or discount powerful evidence of innocence," attorney Justin Dillon warned recently.
Dillon, an attorney who represents students accused of sexual assault, wrote an opinion piece in the Detroit Free Press along with Stuart Taylor, who co-wrote a book about the Duke lacrosse sexual assault investigation.
He said "the wolf is at the door" when it comes to Lhamon's potential confirmation and reinstatement in the Department of Education.
"She played a major role during the Obama administration in ruining the educations and often the lives of countless students," Dillon and Taylor said. The almost entirely male students "were found guilty of sexual assault under flagrantly unfair, effectively guilt-presuming rules dictated by her office."
They explained:
During the Obama administration, OCR –  headed by Lhamon from 2013 to 2017  – took unprecedented steps to dictate to schools exactly how they should handle allegations of sexual harassment and assault on their campuses. They were told how – and how not – to handle these cases, and threatened with a withdrawal of their federal funding if OCR was not pleased with the outcomes.

The main casualty of this new approach was due process. Respondents were marched through kangaroo courts run by biased administrators who would "start by believing" accusers, as the mantra went. OCR forced schools to use the "preponderance of the evidence" standard in Title IX proceedings, far lower than the "clear and convincing evidence" standard schools such as Princeton and University of Virginia had used for years.
The application of these regulations led to a number of lawsuits, Dillon and Taylor said. In one example, now-Supreme Court Justice Amy Coney Barrett made it easier for students to sue their universities for due process violations.
"Lhamon will work hard to roll back the new regulations if she is confirmed," the pair predicted. "Her nomination represents an existential threat to the culture of fairness that the new regulations have created."
IMAGE: U.S. Department of Education/Flickr
Like The College Fix on Facebook / Follow us on Twitter