There's a lot of news outlets that cover higher education trends, and in particular generate reports about political correctness, bias, indoctrination and free speech concerns stemming from campuses today.
But what if one wanted to research campus craziness stemming from one particular school? Well, they could do an Internet search, or they could use a newly launched tool that aims to serve as a one-stop shop for those in search of a particular set of news about a particular institution.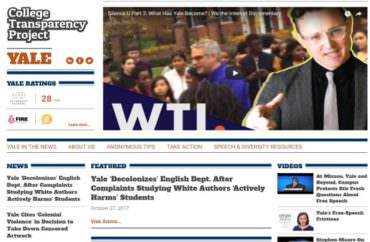 Enter the "College Transparency Project," a new effort that "is concerned by the increasing political orthodoxy, threats to free speech, and disregard for due process on American campuses."
"Our mission is to catalogue the worst excesses of these phenomena to better educate prospective students and their parents, current students, alumni, donors, trustees, and the American public so that they may make more informed decisions about which institutions they chose to attend, support, and or take constructive action to reform," according to its online description.
Its first target? Yale University. A new website, yale.collegetransparency.com, aggregates many different stories about the Ivy League institution, including articles from The College Fix such as:
Yale 'Decolonizes' English Dept. After Complaints Studying White Authors 'Actively Harms' Students

Yale Cites 'Colonial Violence' in Decision to Take Down Censored Artwork

Asked Why Yale Conservatives Feel Unwelcome on Campus, Dean Says They Say 'Stupid' Things
Other news outlets linked to on the site include National Review, The Federalist, Washington Free Beacon and more. The site also links to a variety of related YouTube videos, and also lists the institution's free speech rating with FIRE as well as its Heterodox Academy rating.
Under a "Take Action" section of the website, visitors are encouraged to send a letter to Yale President Peter Salovey about free speech concerns at Yale.
"Yale University is a hostile environment for free expression and viewpoint diversity," the letter states. "Despite a litany of embarrassing incidents and repeated condemnations of University policies by respected leaders across the political spectrum, your administration has yet to take the necessary steps to demonstrate its commitment to the core values of liberal education."
As part of the project, a College Transparency Project Facebook and Twitter account for Yale news has been set up, where news stories can be touted and shared.
Reached for comment, a representative of the project who asked to remain unnamed said that the idea is to not reinvent the wheel — as there is so much news about campus craziness already being generated by a variety of news outlets. Instead, the transparency project can hone in and focus on particular schools, harnessing others' articles and additional content and videos.
Yale is the first of several campuses expected to be zeroed in on as part of the project. The representative declined to say who or what group is sponsoring the project, but did note: "Alumni are concerned about what they are seeing, and see this as a resource."
IMAGE: screenshot
Like The College Fix on Facebook / Follow us on Twitter