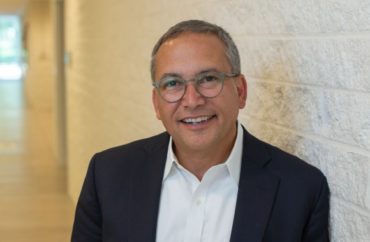 The battle over free expression continues at frontline of the culture wars, despite most students and faculty favoring the First Amendment and other speech protections. To ensure students' right to speak freely on campus, colleges must teach them listening and debate skills and enforce good policy, a college president wrote in a recent op-ed.
"According to recent research by the Knight Foundation, 84 percent of students view free speech rights as critical to our democracy," Adam Weinberg (pictured), president of Denison University in Granville, Ohio, wrote in a recent op-ed for Newsweek.
"However, the percentage of students who say free speech in America is secure today has fallen sharply," according to the 2022 report based on two decades of research, produced by the Knight Foundation, a non-profit that provides grants for journalism and the arts.
Therefore, "universities need to do more to protect free inquiry and expression, which will only flourish on campuses ​that ​​ ​are clear ​about ​their purpose, driven by cultures of curiosity and intellectual humility, hold the line when controversies arise, and focus on creating communities where everybody feels a sense of connection," Weinberg wrote.
Universities can do this in two ways, by promoting a clear policy on academic freedom and teaching students skills of debate and intellectual exchange:
The policy is direct: "Academic Freedom is the right of all members of the University to exercise the broadest possible latitude in speaking, writing, listening, challenging, and learning." It goes on, "Academic freedom applies to views and ideas that most members of the University may consider mistaken, dangerous, and even despicable."

It's not just enough to state it, though; we need to build these messages into how we onboard everybody ​on ​our campus​….

Beyond messaging, we also need to focus on skills—skills students are not showing up on university campuses with.

​This year, we used new student orientation to host a parliamentary-style debate on free speech to help students start to develop the basic skills to do this work. Our faculty have organized a speaker series called Minds Wide Open that is designed to generate opportunities for students to ​embrace discomfort as normal, fun and important.

The same kind of work needs to be done in classrooms. There is an art to engaging in open, ​fierce,​ and productive intellectual inquiry. Many faculty are already helping students learn to frame questions in ways that open room for inquiry rather than shutting it down, listen closely to what others can teach us, and engage effectively across intellectual differences.
MORE: Five security guards, threats of discipline required to protect free speech talk at DU law school
Like The College Fix on Facebook / Follow us on Twitter